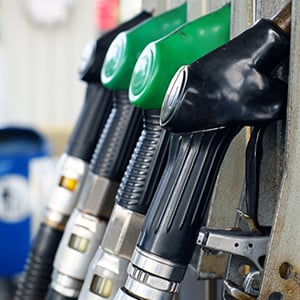 REVOLUTIONARY: New card could raise millions
Professional Charity Services (PCS) are aiming to reverse the drop in income for UK charities and raise millions with the UK's first-ever charity fuel card.
The recently-launched corporate card can be used at more than 4,500 garages in the UK, with oil giant Shell paying a rebated donation of up to 3.025ppl to the holder's chosen charity.
Cardholders elect the percentage of rebate sent to their supported charity and the percentage retained by themselves; up to 90% goes to the chosen cause, with a fixed 10% going to PCS.
The rebate figure, meanwhile, is reliant on the volume of fuel purchased collectively by users at the fixed weekly fuel price.
PCS's venture means that fleets can not only save money on fuel, but they can also raise a substantial amount of money for charity without their own outlay.
The card – which can be also adopted by charities to fuel their own fleet – costs £5 per year and displays the name and logo of the chosen cause.
Current charity partners of the scheme include Help for Heroes, Blind Veterans UK, Royal Air Forces Association, the Poppy Factory, Marie Curie Cancer Care, the RSPCA and Cancer Research UK.
"Until every single person in England has got a charity fuel card in their pocket, I won't settle."
Paul Wright, PCS
PCS were launched only six months ago by Paul Wright, a former soldier with almost 20years of fleet industry experience.
He was inspired to begin the venture by the story of his grandfather, who dedicated a large portion of his life to charities BLESMA and SSAFA after losing one of his legs in the Second World War.
Mr Wright said the beauty of the card is its simple concept: making people happier to buy a vital and expensive everyday product in the knowledge that their purchase is doing some good.
"The mantra that we always work to is that we are always going to be about the charity," he said.
"We're not just a drop in the ocean – it's not just me shaving my head and sitting in a bath of beans for 24hours – this is an actual massive change, this is something worthwhile.
"We ourselves aren't going to earn massive amounts of money doing this – I go home each night and go to bed with a huge smile on my face.
"I get my kicks from doing something which is worthwhile."
Mr Wright added that the fuel card provided a way for cash-strapped businesses who have been forced to stop donating due to the economic climate to begin to donate again.
He claimed that PCS were not targeting those businesses who already use fuel cards, but instead smaller fleets who are new to the idea.
"Because they can't afford to give, say, £100,000 a year, firms have had to stop corporate donations," he said.
"But now, they can donate for free – we've opened the door to everybody.
"By joining the community that we're creating, small businesses get to make a massive difference to the charities they support.
"Small businesses can, for the first time ever, reap the rewards of cheaper fuel – because our price is cheaper than pump price – and also donate up to 3.025ppl to charity.
"They also get the advertising that goes with it as well as the feel-good factor.
"Even someone with just one vehicle, a one-man outfit, can make a difference that really counts."
There are also plans afoot to launch a B2C fuel card to be used across all forecourts, which PCS are hoping to have on the market by the end of 2014.
This would be a huge move, opening the door to all drivers rather than just corporates.
By mid-2015, Mr Wright hopes to have launched a service similar to Just Giving on the PCS website, and he is also in early negotiations with ATOS to launch a B2B card for supermarket fuel.
Mr Wright said he is delighted to explore such avenues, and would embrace any idea as long as its main focus was being of benefit to charity.
"Until every single person in England has got a charity fuel card in their pocket, I won't settle," he added.
"Our target for the end of our second year is one million cards.
"Initially, I thought that would be quite a difficult thing to do, but looking at what we've got now, with the number of people that we are talking to and with Shell's 100% backing behind us, maybe that's too small of a figure.
"We initially thought that hitting a million cards was a five-year plan, but genuinely in my heart of hearts I'm thinking it will take no more than two years.
"We're not reinventing the wheel; at the end of the day, everybody's got to have fuel."
Find out more about Professional Charity Services and their charity fuel card here.