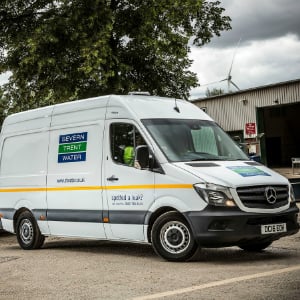 Utilities contractor Gallagher has commissioned the first of a new fleet of Mercedes-Benz Sprinters, with the 3.5-tonne model's high 7.0-tonne gross train weight a key factor in the acquisition.
The Manchester-based operator, which also has depots in Carlisle, Derby, Kendal, Preston and Sheffield, works for some of the UK's leading utilities and construction companies. Its 15 new Sprinter 316 CDI models have fuel-efficient 163 hp engines, and are being supplied by North-West Dealer Roanza Truck & Van.
Gallagher Director Vincent O'Connor explained: "What happens all too often in this industry is that the crew will turn up in one van and then be left kicking their heels waiting for another to arrive with the barriers, signs and cones they need before they can get cracking.
"What we have done is design a 3.5-tonne utility trailer which allows us to put plenty of weight on the back while remaining fully compliant. This way, our teams can take all their kit with them and start work straight away. It's all about improving safety and efficiency, and providing a better customer experience."
Fast-growing Gallagher operates primarily in the North and Midlands and specialises in the installation and maintenance of essential water, gas, electricity and telecoms supplies for homes, hospitals and workplaces. Like other vans on the company's 400-strong fleet, the high-roofed, Medium-length Sprinters wear the liveries of some of its biggest customers.
As well as specifying the uprated 3.5-tonne towing capacity, Gallagher has opted for automatic transmissions to reduce driver fatigue. Underlining its commitment to safety, the new vans are also speed-limited and fitted with dashboard-mounted cameras. Meanwhile, the vans are being fully racked out by Vehicle Conversions Ltd (VCL), of Hyde, and their cargo areas sprayed with durable, water-tight LINE-X protective coatings – these help Gallagher to maintain the highest hygiene standards while delivering for customers on clean water networks.
Mr O'Connor continued: "Safety is a real concern and we'll do whatever we can to protect our employees and other road users, so the fact Mercedes-Benz vans lead the market in this regard is very reassuring.
"Having hired-in Sprinter dropsiders in the past we know from experience that they also live up to their reputation for outstanding reliability, while the Mercedes-Benz Dealer Network offers round-the-clock back-up. These were major factors in our decision to place this order. We provide our own customers with fast and efficient 24/7 responses and that's exactly what we need from our van supplier."
He adds: "The lads are very pleased with the new vans, which is what you'd expect from anyone getting a vehicle with a three-pointed star on the front. We've been very impressed, too, by Roanza's service – the Dealer's Business Development Manager Michelle Fairclough, in particular, has been very thorough and paid great attention to detail to ensure that our Sprinters are perfectly tailored for their role. It is now our intention, as we move forward, to standardise on this specification."