Operators handling goods entering the UK from the continent should not be complacent about the scale of the changes coming into force on 1 January, business groups have told MPs.
Concerns are growing that firms may not be prepared for the biometric testing and a deluge of additional paperwork accompanying freight bound for the UK in little over a month's time.
These checks are as a result of the implementation of the European Travel Information and Authorisation System (ETIAS) and the Entry/Exit System (EES) next year.
From the start of next year, customs declarations on goods imported from the EU will be required upfront and tariffs must be paid immediately as well, as opposed to the current system of in arrears.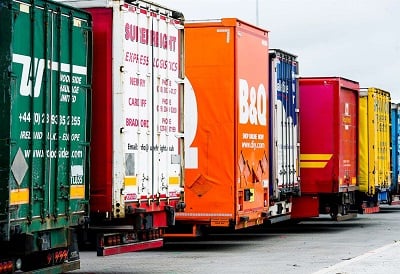 A failure to provide the correct paperwork means freight cannot clear customs and queues of HGVs could build up.
Giving evidence to the Transport Select Committee, Shane Brennan, chief executive of the Cold Chain Federation, said: "The big X factor with what's happening in January is we are asking the rest of the EU, the businesses and the companies, to have to start doing things now to do with Brexit and it's a long time since Brexit happened in terms of their consciousness.
"I think the level of preparedness going into the 1st January is a worry.
"I'm concerned that there is a lesser amount of activity around preparation going on, certainly in terms of engagement with external stakeholders about what's happening with the 1 January changes."
Brennan added: "And what are the operational plans if things start to jam up? We have got a new goods vehicle movement system that hauliers have to operate coming from Calais to Dover. What happens if lots of vehicles turn up without having made those entries?
"Is the port of Calais going to let them in? Are they going to get on to the ferries? Are they going to get to the trains? And if they don't, where are they going to go?
"That could become a problem and who is going to talk to who? We are going to need a bit more clarity on that."
Elizabeth de Jong, director of policy at Logistics UK, said there were additional concerns over whether HGV drivers would have to leave their cabs for border checks: "Anyone travelling into the EU who is coming from an outside country, as Britain will be, will need to get out of their vehicle and have biometric checks done by French authorities, which will lead to delays and timing concerns," she told MPs.
De Jong said the solution should involve HGV drivers remaining in their cabs: "Then they are not needing to get out, which takes up a lot of time and also leads to security issues for the loads, for migrants and other issues as well."
She warned that any delays run the risk of significant tailbacks: "An increase of two minutes processing for each lorry would lead to a 17-mile delay at Dover border," de Jong said.
Yesterday, MPs expressed their concerns to the Home Secretary about the potential of chaos at UK borders