UK new heavy goods vehicle (HGV) registrations rose by 9.6% to 40,716 units in 2022, according to new figures published today by the Society of Motor Manufacturers and Traders (SMMT). The first full year of open trading since the pandemic saw robust demand from the haulage, construction and distribution sectors, with deliveries helped by easing supply chain and logistics disruptions. While the market remains -16.1% below 2019,1 a strong Q3 performance, followed by 14.4% year-on-year growth in Q4,2 resulted in a better second half to the year than pre-pandemic.3
Growth in 2022 was driven by articulated truck deliveries, up 21.9% to 19,414 units, while rigid truck registrations increased by 0.3% to 21,302 units. Tractors remained by far the most popular segment, rising by 21.7% to 19,076 units, followed by box vans, which grew 0.2% to 4,062 units. Demand for curtain-sided lorries was also up, by 5.9%, while there were declines in registrations of tipper (-0.8%), dropside (-3.1%) and refuse vehicles (-14.8%).
HGV registrations rose in all UK nations, with the vast majority recorded in England (87.7% of the market), followed by Scotland (6.8%), Wales (3.1%) and Northern Ireland (2.4%). Regionally, South East England recorded the most HGV registrations (22.6%), ahead of the West Midlands (12.9%) and North West (11.9%).
Demand for the latest lower and zero emission trucks is growing as the entire sector prepares to make the transition. Truck manufacturers are already investing heavily to bring a range of electric, hydrogen and other new technology models to market. Operators, however, need long-term certainty to make the necessary purchase investments and, given that there is currently no single net zero technology to meet the needs of all HGV use cases, it is crucial that the UK has a long-term, versatile plan to facilitate the shift. In particular, a clear plan for public recharging or refuelling infrastructure that is suited to HGV requirements would equip the sector with greater confidence.
Mike Hawes, SMMT Chief Executive, said, "Another year of growth in HGV registrations marked by a strong second half performance shows that operators have an increasing appetite to invest, with deliveries enabled by the easing of supply and logistics disruptions. As manufacturers deliver more zero emission vehicles to market, there must be policy certainty and infrastructure assurance to inspire further fleet renewal. This will be essential to the UK's ability to deliver its decarbonisation agenda, while keeping the British economy and society on the move."
James Charnock, Commercial Director, Renault Trucks UK & Ireland said: "Following SMMT's announcement today regarding HGV registrations, we are delighted to hear that Renault Trucks' 2021-22 year-on-year vehicle sales increase of 18.4% is the highest of all manufacturers and nearly double the average market increase of 9.6%.
"For five consecutive years, Renault Trucks has grown its MHD market share, with significant acceleration in more recent years.  A number of factors have contributed to this success: firstly the investment in and expansion of our dealer network whilst ensuring the consistency of service they offer to customers across all touchpoints; and secondly, the development of our product – the 'Evolution' models of both our T and C products – from both an aesthetics and performance perspective, has been positively received by drivers and operators across all sectors."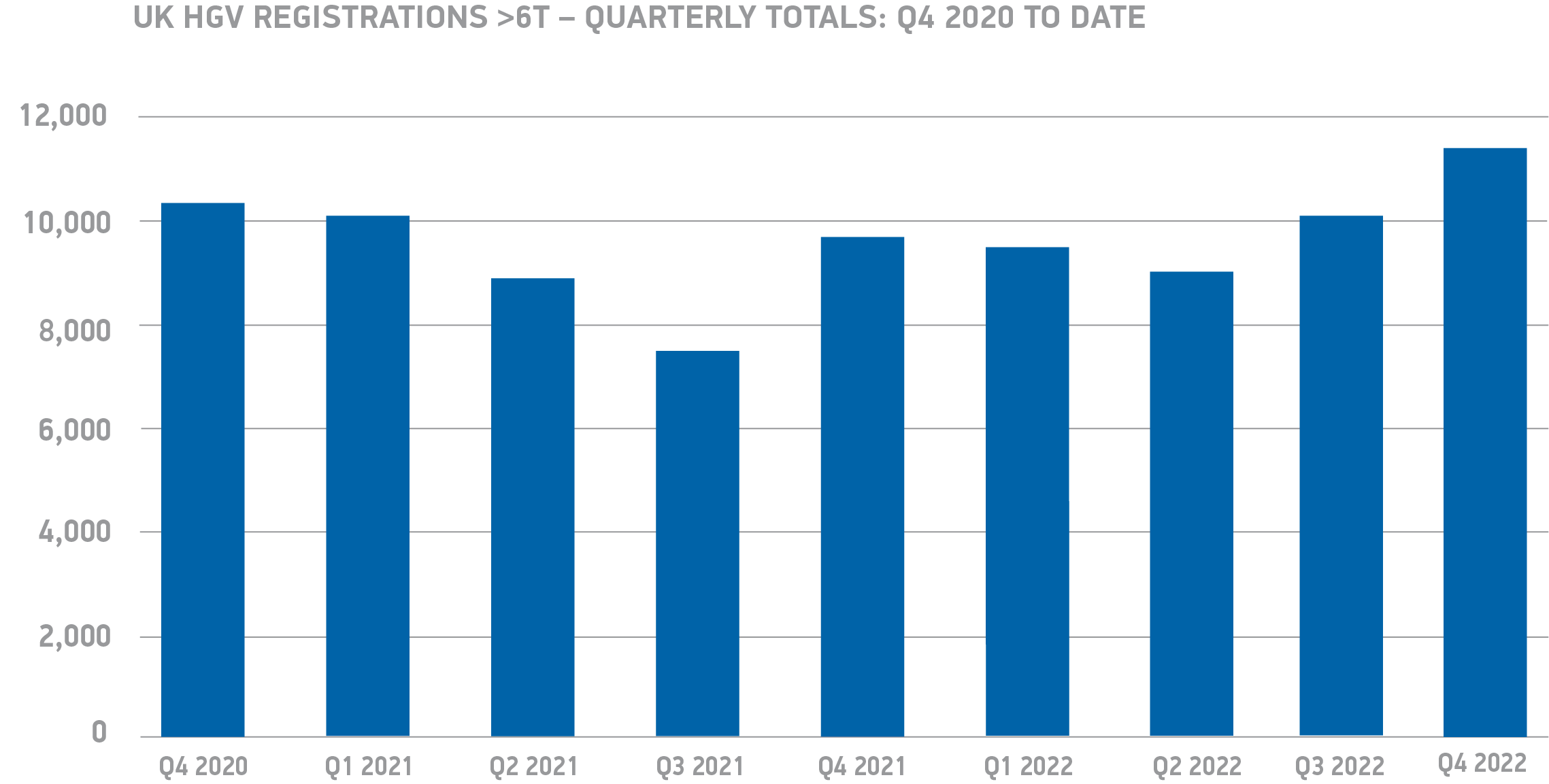 ---
1 HGV registrations, 2019: 48,535 units.
2 Q4 2022: 11,312 units.
3 HY2 2022: 21,346 units; HY2 2019: 21,071 units.