Road haulage is one of the biggest global industries, propelled by technological developments, economic growth, globalisation and the road skills of generations of dedicated drivers. It all began in 1879 when Karl Benz patented the first reliable internal combustion engine – a world-changing development that made its debut appearance in a truck in 1895, by which time Rudolf Diesel had also made an invaluable breakthrough.

The ensuing 130-year journey has been dotted with innovations and landmark events, which have helped produce the industry we know today. And that journey's still developing; Covid-19 is the latest incident to alter the haulage industry's direction of travel, but many of the significant developments have been sparked by much more benign influences. An increase in road networks, along with the invention of pneumatic tyres and the use of Rudolf's diesel engines in commercial vehicles, have all helped create the trucking industry we currently see.
The birth of diesel engine lubricants
One of the most significant contributions has been made by lubricants – the unsung oils and greases that are essential for the protection of bearings, drive shafts and engine components. And one issue above all else was causing problems – the high pressure and heat generated in diesel engines was proving especially detrimental to the life and performance of engine oils, resulting in vehicles being in the garage instead of being out on the road, delivering on time.
But out of challenge comes innovation; scientists at Vacuum Oil, a predecessor firm of ExxonMobil, devised a special oil formulation, which was registered in 1925 as Diesel Engine Lubricant by Vacuum Oil, or DELVAC. The Mobil Delvac™ range of lubricants was officially born and continues to protect the world's truck fleets to this day.
Rising to meet economic challenges
The diesel engine's performance during World War II helped to popularise its use in commercial vehicles in the post-war years. This, in turn, helped boost road haulage, which quickly became the backbone of economic activity, linking ports with rail networks, distribution centres and customers across the nation. Everything was running smoothly.
The next big step came in 1949 when the first synthetic oil was developed by Vacuum Oil researchers who were looking at new process technologies. However, the potential of synthetic poly-alphaolefins (PAOs) wasn't immediately appreciated and it took more than a decade before the advantages were fully realised, such as a wide operating temperature range, a consistent viscosity, enhanced parts protection and longer life.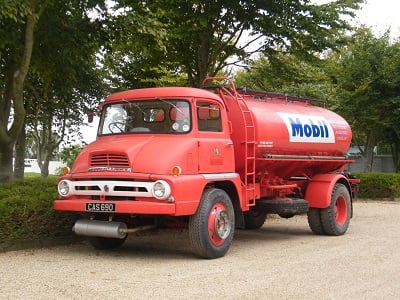 Speaking to my colleague Gerwin Schucher, ExxonMobil's Product Technical Advisor, he said, "The 1979 second oil crisis happened just as I joined ExxonMobil, which saw the price of crude rocket. This hit all industries as prices went up and supplies were interrupted. Everybody was affected; you weren't allowed to drive cars on a Sunday. That wasn't much fun."
The 2007-2008 economic crisis saw fuel prices soar once again, leaving fleet operators to seek out savings; the pressure was on to reduce maintenance costs and improve the total cost of ownership. One innovation was especially beneficial – the formulation of high performance, long life Mobil Delvac™ engine oils. This helped extend oil drain intervals, reduce inventory costs and enhance engine protection.
My colleague, Mahmoud Abdel Shafy, an Operations Manager at ExxonMobil, explained that "Extending oil drain interval remains crucial to fleet managers, maintenance engineers and truckers. They need their trucks to complete the long trips and then return to their trusted oil change stops – they don't want to risk unplanned stops at unknown places, hence the need of a reliable oil that can withstand the long trips yet provide a consistent performance day-in, day-out."
Navigating unprecedented changes
Improving fuel quality, new sustainability legislation and evolving engine designs have all moved the goalposts for vehicle manufacturers, fleet owners and lubricant manufacturers. New low ash engine oil formulations are now helping to improve fuel economy while at the same time ensuring that drivers and freight can safely get from A to B, while also still meeting the latest vehicle regulations.
The growth of online retail was dramatic prior to the arrival of Covid-19; the pandemic shifted this move up several gears, almost overnight. While no industry has had an easy time with the virus, it is obvious that the road haulage industry and the drivers in particularly have faced many unique challenges in the last few months.
Dealing with the issues of social distancing, safeguarding and preserving public health, while also answering the demands for new levels of service is not easy. ExxonMobil is the official fuel, lubricant and technology partner of Aston Martin Red Bull Racing, a team that has prioritised the health and safety of its team, fans and the local communities in these turbulent times.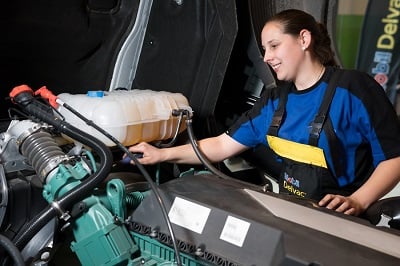 Gerrard O'Reilly, Race Team Logistics Manager at Aston Martin Red Bull Racing, said, "We have significantly changed the way we operate. There are lots of social distancing procedures and PPE is worn at the track and when we travel." Everyone is on board and makes it their priority to adhere to the new guidelines. At the end of the day, it's for everyone's benefit and we are all responsible for keeping our team members and the wider Formula 1 community safe. All the drivers and team members are also regularly tested for Covid-19."
If the Covid-19 crisis proves anything, it's that road hauliers are built of strong stuff.
The future of trucking
The pandemic wasn't predicted, but there are other challenges ahead that have been well signposted such as the upcoming so called Euro 7 regulations.
"Euro 7 will likely arrive in 2024/5 and stipulate that hauliers and other vehicle owners reduce fuel consumption by 15%, compared with 2019 numbers, and then another 15% by 2030," said Gerwin. "We'll need new designs and new thinking if this is to be achieved and lubricants will play a part – the expectation is that new oil formulations will offer a 1% increase in fuel efficiency. This can support fleet owners in meeting future regulations." Research is already underway to formulate low and ultra-low viscosity oils, which will help enhance fuel efficiencies without compromising on parts protection or service life.
The impending arrival of new technology also casts a shadow over the industry – new electric commercial vehicles will add complexity to fleets and require new skills, new lubricants and advanced predictive maintenance. But smart trucks are already here, combining assisted driving, remote truck monitoring and increasingly sophisticated sensors to improve safety on the road and help enhance fuel efficiency.
"Our trucks are the greenest they can be at the moment, but there are always ways for us to improve and we are committed to that as a team and a sport," said O'Reilly. "You can get biofuel for trucks, however the support network needed around Europe is not there yet. Once hybrid trucks become available, then we would of course look into that. It would change the way we work, and we are committed to researching all opportunities to make our transport and logistics more sustainable."
What is clear, however, is that the road haulage industry in its various guises is currently experiencing change like never before. The combination of new technologies and revised emissions regulations, along with the current pandemic, are reshaping how fleets operate, which in turn will affect the logistics and planning involved in their day-to-day running.
The good news is that the sector's key players are already working hard on achieving the best possible outcomes. It will be a challenge, especially as new technologies come to market, but OEMs, parts suppliers, infrastructure builders, digital solution providers and energy suppliers are increasingly aligned in their efforts. Together they are creating the tools necessary to ensure a safe and efficient future for the road haulage industry.
---
Author: Janne Haarala, Manager Europe CVL Sector, ExxonMobil