Providing vital support to those that care for us
Maurice Flynn & Sons Ltd provide support to critical public services – so it's really important for their fleet vehicles and team, to be safe on the road and available 24/7.
Managing standard light commercial and heavy goods vehicles, including specialist environmental and mobile working platforms, means they need to be able to have a clear view of it constantly. Each vehicle is customised, with the right equipment, so their team have everything they need to complete a job.
They've managed industry-leading building and maintenance projects for over 40 years. Their portfolio is varied and extensive – across multiple types of buildings and industries. Ranging from huge property builds and restoration, to helping clients gain entry to social care properties late at night or assisting older people with heating repairs. It's really easy to see why it's important for their team to be available to respond and get their job or fix, 'right, first-time, on-time'.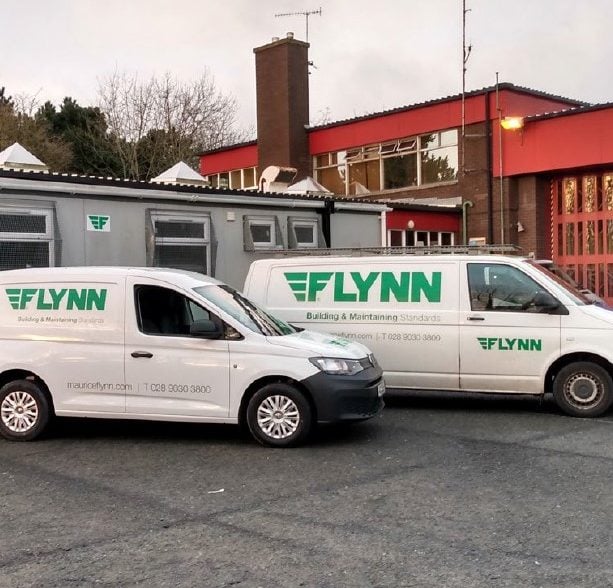 Going to the next level
With vehicles on the road for over a decade, Maurice Flynn & Sons Ltd wanted a fleet management system that would give them deeper insight – they wanted to:
– Know they were making the right decisions for their business
– Achieve quality service and set industry standards through creating a great customer experience and brand reputation
– Protect their teams and reduce risk with safe driving
– Reduce fleet spend through optimised route planning and predictive maintenance
Greener and leaner
A socially responsible approach is at the heart of what they do including reducing their environmental impact. They wanted to find ways to improve vehicle wear and tear, and usage – plus, reduce fuel consumption and importantly, carbon emissions. All to support a sustainable strategy and way of working.
Being safe on our roads
As a family run business, Maurice Flynn & Sons Ltd have strong people values, so wanted to build an ethical company filled with empowered and enthusiastic employees. For this reason, they welcomed our digital fleet management tool, Vodafone Business Fleet Analytics – with it's world-leading intelligent data and reporting capabilities; including harsh-braking, cor­nering and acceleration to use in driver improvement training and education programmes.
The value and impact of improved driving shouldn't be underestimated. Barry Grant, IT Manager explains, "driver behaviour analytics and vehicle reporting tools greatly increase our ability to identify driver behaviours that need to be made safer. One of our core values is social responsibility, so safe and responsible operation of our fleet, enhances our reputation in the minds of our clients and the general public alike."
Giving their future fleet a boost today
Real-time telematics vehicle performance data, helps Maurice Flynn & Sons Ltd, maintenance garages spot if there's an issue with any of their vehicles ahead of time.
Barry continues: "Regular predictive maintenance helps us avoid lengthy spells in our service depots, reduces our repair costs and improves our vehicle availability by as much as a third. Mean Time Before Failure (MTBF) analytics allow better management of fleet numbers and drive fleet replacement, resulting in an increase in availability and a more adaptable, leaner fleet."
On the road, the data is used to work with teams to cut idle times (time spent with the engine running but not travelling) and to help reduce vehicle wear-and-tear, maintenance, fuel costs and carbon emissions. A welcome approach with today's high fuel costs and need for their business to become more sustainable.
Intelligent data makes for a more sustainable fleet & business infrastructure
As well as protecting fleet teams and assets, Maurice Flynn & Sons Ltd were able to:
– increase fleet productivity by 12% (i.e. by having the right employee, equipment and vehicle available, at the right time – to deliver their 'first time fix')
– improve their teams efficiency and work-life balance (i.e. managers could match the right abilities and vehicles to a job – and HR could adjust work patterns)
– reduce their fuel consumption by 30% (i.e. with better driving, vehicle maintenance and route planning)
– measure and reduce their carbon emissions by 30% (i.e. using Green Fleet Dashboard reporting)
Here's what they say
"We harness vehicle data to carry out preventative maintenance – making sure our vehicles are safe and available to be out on the road – so we can respond to customers 24/7. Essential when delivering services to our 'blue light' and vulnerable clients in the community."
"Being able to measure and reduce our fleet vehicle carbon emissions in a tangible and manageable way, means the world to us. We know that we're making a positive difference to our environmental impact with better driving, vehicle maintenance and route planning."
"Real-time data analysis and vehicle reporting tools that Vodafone Business Fleet Analytics offers, has greatly improved our driver behaviours, employee work-life balance and maximised productivity – with the right employee, equipment and vehicle available, at the right time, for a first time fix."

Barry Grant IT Manager
To register your interest and find out more about Vodafone Business Fleet Analytics contact one of our Fleet Sales Specialists HERE