As part of its ambition to achieve carbon neutrality across our own operations, leading global technology company, ABB, is switching to an all-electric fleet by 2030. In the wake of World EV day in September, we asked David Lowen how fleet managers can transition to all-electric fleets.
What is ABB's current fleet situation in the UK?
As a world leader in electric vehicle infrastructure, offering the full range of charging and electrification solutions for electric cars, buses, vans, trucks, ships and railways, we need to lead by example when it comes to electric mobility.
We currently have 500 company vehicles on a four-year lease that covered a combined distance of 6.8 million business miles in 2019, the year before the pandemic. As a large employer in the UK, we have a social responsibility towards the community. Together with energy consumption and air travel, business mileage is our highest carbon emission contributor, representing over 50 percent of our total carbon footprint in the UK. After interrogating the data, we saw it as a good opportunity to explore an e-fleet.
We estimate that we can reduce our carbon footprint by around 20 percent once we've completed the transition to an all-electric fleet. The Certified Emissions Measurement and Reduction Scheme (CEMARS), one of the world's first internationally accredited greenhouse gas certification schemes, has verified this figure.
How are you managing the transition to an EV fleet?
Since we are early adopters of an all-EV fleet, the first step was to conduct research with our funding partner Arval UK. It provided much-needed advice, data, and information on how to manage the transition through our scheme of four-year leasing.
Conducting initial research is critical to the successful transition to an EV fleet. Following our research, we realised that we wanted an "organic shift", as it wouldn't have been feasible to switch instantly from ICE (internal combustion engine) vehicles. With our car leases running over four years, the rotation to replace the fleet would conclude at the start of 2025. Although the business case we formulated came with a price tag, we prepared for the expenditure to achieve our zero-emission target.
Surprisingly, the additional cost was less than we initially anticipated. We found that the difference in lifecycle cost between a EV and ICE vehicle levels out over four years. However, due to EVs' higher initial purchase costs compared to their petrol and diesel counterparts, we assembled a team to engage with our corporate stakeholders and develop a plan.
ABB UK used this team to win buy-in internally to ensure all employees were on board. As part of the onboarding process, we enlisted the help of employees who were already using battery electric vehicles to help promote the EV policy.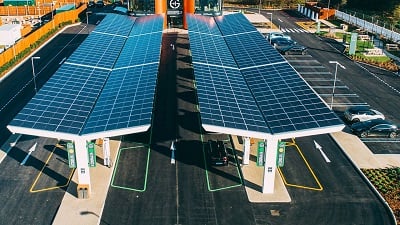 How do you address issues like range anxiety?
Awareness of the benefits and potential of electric mobility is already high at ABB given EV infrastructure is a key part our portfolio. But any new, wide-ranging technology requires a fair amount of change management to get the most out of your investment. You have to take your employees along with you on this journey, especially if people haven't experienced driving EVs. We ran some information and education sessions and shared testimonials and videos from early adopters.
It's important to listen to the concerns of your employees and address them through education and cultural change. Emphasise the health and safety benefits by pointing out that the range of EVs forces motorists to stop and take breaks when they need to charge.  Our engagement with employees also helped explain what we stand for as an organisation and the direction we're taking.
While range anxiety still exists, it's not as big of an issue as it once was. Improvements in EV technology, batteries, and the availability of public car charging stations has made it much less of a problem. We also worked with the training organisation, DriveTech, to develop a risk management programme explicitly aimed at EV fleets.
Is there enough charging infrastructure to support EV fleets?
As ABB is a supplier of EV charging technology, we can see first-hand how fast infrastructure is being deployed in the UK. For example, our Ultrafast DC 350 kW and Fast DC 60 kW chargers will support GRIDSERVE's new Electric Highway and Electric Hub charging network across the UK. These high-reliability chargers will further reduce range anxiety among EV users and promote the feasibility of full-scale EV fleets. This network will cover 85 percent of the UK's motorways, plus towns and cities across the country. We are also actively deploying EV chargers at many other sites nationwide.
How are you transitioning to an all-electric fleet without affecting levels of service?
Fleet managers must ensure that the transition to an all-electric fleet preserves the same service they maintained before. ABB's service engineers, for example, are often on a 24-hour call-out, and we cannot let our move to EVs impact our ability to service our customers. Whilst we were developing our EV policy, ABB UK also launched its Terra 7.4 kW home charging unit. As part of our service commitment, we install these free of charge at our employees' homes when they take on an EV.
The Terra units give about 30 miles of range an hour compared with the 10 miles an hour with a three-pin socket, giving the EV more range. So far, we've taken on more than 80 EVs, and we're on track to meet our 2025 UK target. The move to electric vehicles is one of ABB's steps to providing the best solutions to our customers. Our experience shows how it is possible for the UK's fleets to decarbonise.
---
David Lowen is Lead Business Manager in the UK for ABB Electrification.