It's that time of year again when the tree goes up, the twinkling light flicker into life and we all gaze up to the sky in the hopes of a glimpse of "Someone" (no matter how old you are, there's still that tiny part of you that still believes in the magic)
And whilst it really is the Most Wonderful Time of the Year, it's also brings certain difficulties; frost mornings mean de-icing the car, trying not to slip over when you forgot to grit the driveway, and arguing over the thermostat. Although we may not be able to help with the practical problems, we have compiled our must-have gifts for the car lovers in your life…or just a little treat for yourself.
Jaguar Pace
Jaguar Pace, designed to mark the arrival of the all-new Jaguar F-Pace family sports car, is an expression of true masculinity, emanating power, confidence and charisma.
Volkswagen Festive Finds
Volkswagen Commercial Vehicles has launched its 2016 Christmas range. Inspired by the brand's heritage, the new collection boasts a great range of themed items from a cook books to cookie cutters, and picnic blankets to baubles.
Aston Martin 2017 Art Of Living Portfolio
Aston Martin has revealed a portfolio of experiences to be offered in 2017 by the British luxury brand's Art of Living by Aston Martin programme, which takes customers beyond sports cars and provides them with the opportunity to live the brand's lifestyle.
From Ice driving to a Design Master class Aston Martin has it covered…for a price.
Pontiac Firebird – Autobiography
 Perfect for fans of American cars, this updated and enlarged third edition chronicles the definitive history of the Pontiac Firebird. Close attention is paid to both regular and high level model variants (Formula & Trans Am), and how Pontiac made its Firebird unique.
Haynes – Build your own V8 Engine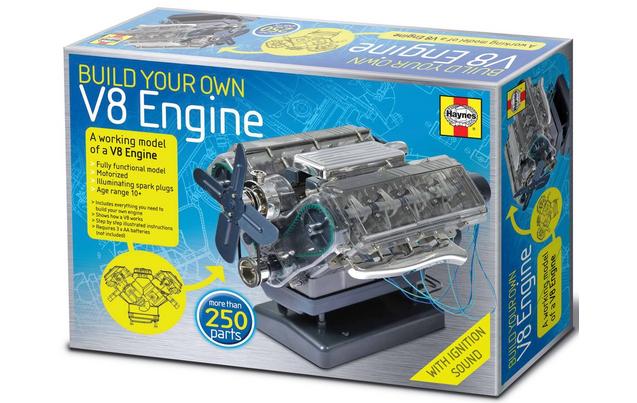 For the more hands on the Haynes V8 Build Your Own Engine includes everything you need to build your own engine. With a set of instructions and step-by-step diagrams, you can build a fully functional, motorized model of a V8 petrol engine! Featuring sound recorded from a real V8 and illuminating spark plugs, this set is perfect for any car fanatic!
Scalextric – James bond Spectre
For the big kid in your life, how about this Scalextric set which includes a scale model of the the Aston Martin DB10 the Jaguar C-X75, plus a figure-of-eight race track and accessories. Leap ramps are also included, so you can perfect spectacular car chases.