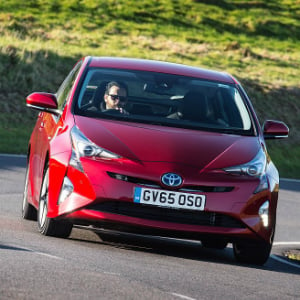 Nineteen years and four generations since its launch, the Toyota Prius continues to set the benchmark for environmental motoring. The performance of the latest version of the world's best-selling hybrid car has helped Toyota secure three green-focused awards within a fortnight, success that also reflects the impact of the technological breakthrough achieved by the zero emission Mirai hydrogen fuel cell saloon.
Today motors review website Carbuyer has named Prius as its Best Economical Car, acknowledging how the Toyota's fuel economy and low emissions have a direct and positive impact on owners' day-to-day running costs. Editor Stuart Milne said: "Few cars offer better mpg figures than the Toyota Prius, which is capable of a remarkable 94.2mpg in ideal conditions. Out in the real world, figures of 70 to 80mpg should be easy to achieve, numbers that were unthinkable just a few short years ago.
"Away from those figures, there's still much to praise the Prius for: it's comfortable, well priced and, if you choose a model with 15-inch wheels, it's exempt from the London Congestion Charge."
Carbuyer's opinion reflects the fact new Prius, launched earlier this year, has achieved the greatest improvements in fuel and emissions efficiency of any generation of the model – a leap forward that has proved itself in real-world performance as well as the mandatory controlled testing that sets the car's official data.
GreenFleet meanwhile has named Toyota its Fleet Car Manufacturer of the Year, winning through in what it revealed was the most competitive category in its 2017 awards. Colin Boynton, GreenFleet Events Manager, said: "Toyota have come back with a bang and thrust themselves into the forefront of fleet managers' thinking when it comes to fuel efficiency on a mass scale. With hybrid derivatives across their range and a hydrogen offering now, too, they are worthy winners of the award."
Toyota's strong appeal to fleet operators and company car buyers is built on a foundation of tax-efficient hybrid models available in attractive, key market segments, including the Yaris supermini, Auris hatchback and Touring Sports wagon, new Prius, the seven-seat Prius+ and, most recently, the RAV4 hybrid SUV. The introduction of Mirai hydrogen fuel cell car to the UK adds further weight to Toyota's commitment to developing advanced technologies to deliver even greater environmental rewards.
Completing the exceptional run of awards success, the international impact of new Prius is reflected in its selection as the Green Car of the Year in the Women's World Car of the Year awards. The Prius emerged the winner based on the professional opinions of a panel of international female motoring journalists who assess the qualities of hundreds of new cars according to the criteria considered most important by women motorists and car buyers.
Paul Van der Burgh, Toyota GB President and Managing Director, said: "It's a genuine honour to have received each of these awards, not least because they provide independent recognition of the global efforts Toyota is making to develop cars that aren't just kinder to the environment, but which meet people's preferences for cars that are also practical, have lasting quality and are genuinely enjoyable to drive. That's all part of our commitment to make ever-better cars, right across the board."