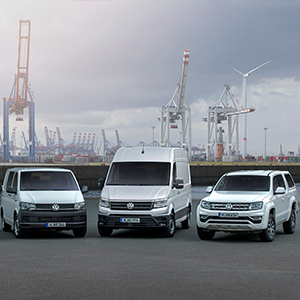 Volkswagen Commercial Vehicles delivered 161,700 vans and pickups to customers around the world up to the end of April. This represents an increase of 4.8 percent compared with the same period last year. In Western Europe, deliveries increased by 6.8 percent in the first four months of the year to 114,100 vehicles.
In the German home market, 41,200 vehicles were handed over to customers (+5.5 per cent). All other European core markets showed significant increases in deliveries as well: France (+16.7 percent to 7,500 vehicles), Spain (+13.8 percent to 4,900 vehicles), Italy (+11.8 percent to 4,100 vehicles) and the UK (+3.3 percent to 16,600 vehicles).
In Eastern Europe, 12,300 vehicles were delivered to customers. This corresponds to an increase of 13.2 percent.
In North America, with 3,500 vehicles sold, 49.9 percent more vehicles were delivered to customers. In South America, Volkswagen Commercial Vehicles delivered 12,200 vehicles (+ 3.5 per cent).
In the Asia-Pacific region, the brand also recorded increases in deliveries (+ 9.2 per cent to 7,200 vehicles).
The markets in Africa (-19.0 percent to 4,000 vehicles) and the Middle East (-22.9 percent to 8,400 vehicles) recorded a fall in vehicle deliveries in the first four months of the year.
With the exception of the Crafter, all model ranges showed a substantial increase in sales. The drop in deliveries of the Crafter is attributable to the model changeover.
 Overview of worldwide deliveries by model range (January to April 2017 inclusive):
–  67,700 vehicles from the T model range (64,500; +4.8 per cent)
–  56,300 vehicles from the Caddy range (50,800; +10.8 per cent)
–  23,800 vehicles from the Amarok range (23,600; +0.8 per cent)
–  13,900 vehicles from the Crafter range (15,300; -8.9 per cent)