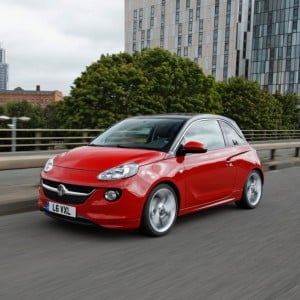 HANDS: Vauxhall Adam now Siri-equipped
Vauxhall's Adam will be the first car in its class that drivers can hold a conversation with, it has been announced.
Drivers will be able to give voice commands and receive a verbal response from the car itself under the Siri Eyes Free upgrade.
Full integration is available when the Adam is fitted with the IntelliLink infotainment system, and the driver has a compatible Apple iPhone running iOS6.
Using a steering wheel-mounted button, drivers can direct Siri Eyes Free to perform a number of tasks without diverting gaze from the road.
The driver can also use Siri Eyes Free mode to interact with an Apple device using just the driver's normal conversational voice.
To start sessions with Siri in Eyes Free mode, Adam owners connect their Apple iOS device with the IntelliLink infotainment system via Bluetooth.
They then pair with the system, and use the steering wheel voice activation button.
Owners can use Siri Eyes Free to perform a range of tasks, including:
Voice-activated, hands-free calls to Contacts on their iPhone
Playing chosen songs in their iTunes libraries without having to spend time scrolling through menus.
Listening to, or composing and sending an iMessage, text message or mail to a phone number or anyone in saved Contacts
Accessing Calendar and add appointments, read incoming notifications as well as configuration for alarm and notification settings
Asking Siri questions such as game scores, weather or the dates of national holidays
Siri is available free of charge in all IntelliLink-equipped ADAMs ordered from today.
Customers who already own an ADAM with IntelliLink can also benefit from Siri Eyes Free, via a free update available from next month.
The £275 IntelliLink infotainment system is compatible with iPhone, iPad and iPod touch, as well as Android devices.
It can be continually updated throughout the customers' ownership, with updates for ADAM owners available through their nearest Vauxhall dealer.