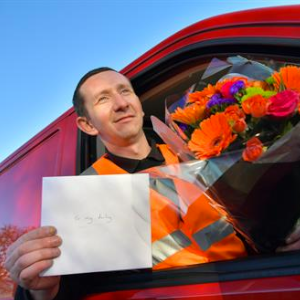 With Valentine's Day just around the corner, new research shows many of Britain's van drivers are prepared to go the extra mile on the road to romance!
The survey of 500 van drivers, commissioned by Volkswagen Commercial Vehicles, reveals van drivers up and down the country are not afraid to wear their heart on their sleeve.
In fact according to the survey, fewer than one in five (19%) van drivers say they are not romantic or don't have a partner!
A third (34%) of van drivers regularly tell their partner they love them. And three in 10 van drivers (30%) will treat their other half to flowers and chocolates regularly.
One in six (17%) van drivers will be in constant communication with their partner, texting or phoning all day long. And when it comes to enjoying time together, a third (33%) of van drivers will arrange romantic dinner dates.
Researchers from Onepoll.com also found that on average more than one in 10 (13%) van drivers still write love letters to their partner, although female van drivers are more likely to pen romantic notes to their partners, with nearly one in five (18%) women saying they do so compared to just one in 10 (10%) men. Of the 500 people surveyed, 43 per cent were women.
A spokesman for Volkswagen Commercial Vehicles, which commissioned the research, said: "Our survey shows that many van drivers are embracing their romantic side and often go that extra mile to do something special for their loved ones. With Valentine's Day around the corner, no doubt Britain's van drivers will be gearing up to celebrate the special day with their partner."
Whether they're sending or receiving goods this Valentine's Day, Britain's van drivers will no doubt be busy delivering flowers, chocolates, balloons and other romantic treats up and down the UK, as an integral part of the economy.
Volkswagen Commercial Vehicles offers a wide choice of quality vans, pick-ups and passenger carriers including the award-winning Crafter, Caddy and Transporter models.