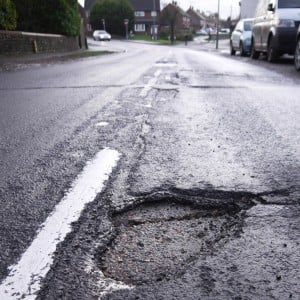 THREAT: UK pothole crisis set to deepen
Wet weather storms and freezing conditions are threatening to deliver the worst 'pothole season' on record, experts have claimed.
According to Warranty Direct's road campaign website, Potholes.co.uk, abysmal December weather and underinvestment in the road network could spark a pothole plague between January and April.
Last year, Warranty Direct estimated pothole-related repair bills cost UK drivers almost £730million – a 159% rise in three years and a 22% increase on 2012.
Councils calculate that 200,000 potholes already urgently require repair, meaning the forthcoming plague could cause misery for the government as well as motorists.
Rory Buckley, of Potholes.co.uk, said: "The worst is yet to come.
"This wet weather will be saturating roads right across the UK with existing potholes channelling water to weaken the road's substructure, literally paving the way for even more potholes and defects to arise."
Current conditions are also treacherous for drivers with the growing threat of 'invisible potholes' – potholes filled with rainwater.
Analysis of more than 150,000 Warranty Direct policies between 2010 and 2013 found that, on average, potholes caused axle or suspension for 6.6% of cars.
However, in 2010 axle or suspension damage made up just 4.0% of all claims; in 2013 this had increased to 10.1%.
While the average repair bill for pothole-induced axle or suspension damage is £247, Warranty Direct and Potholes.co.uk have identified recent claims as high as £2,700.
The average cost for a council to repair a single pothole is only around £50.
However, with almost two million potholes filled over the last year at a cost of £99million, the shortfall in annual road structural budget is calculated to be £741million.