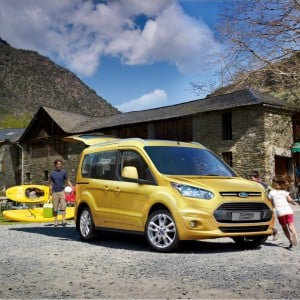 TOP: Ford Tourneo Connect
Ford will not be passed as UK automotive market leader any time soon, the company's Marketing Director has insisted.
Anthony Ireson claims after 37years at the top of the UK sales charts, the manufacturer are confident of remaining leaders, with their commercial arm contributing.
Duncan Aldred, Chairman of Vauxhall, had recently claimed his company would soon overhaul Ford at the summit.
Speaking at the launch of the Tourneo Connect, Mr Ireson said: "We consistently bring out products people can trust and that's why we are ahead with a market share of 14.9% and rising.
"In retail sales things are going even better.
"This is a sector where you have to fight for even the tiniest of gains but we now have a 13.3% market share, up from 12.2% last year and 11.9% the year before.
"The B-Max is leading its SUV segment with 17,000 sales this year, we have had to increase production of Kuga and the Fiesta outsells its nearest rival by two to one.
"We are going to take some catching."
The Tourneo Connect, available with five seats or seven in the Grand Tourneo, is the second model in the range following last year's Custom.
A third model, the Courier, is being rolled out but no decision has been made on whether it will come to the UK.
Ford are still evaluating the market for the smaller version and, crucially, whether they can make money on it.
The Connect range features Ford's clever 1.0litre, three-cylinder Ecoboost engine, which addresses fuel consumption concerns many fleets had with the previous model.