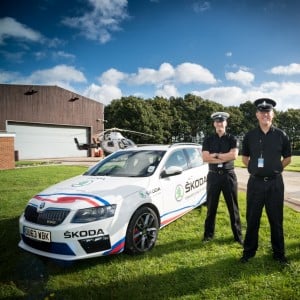 TEAM: Octavia for Tour de France taskforce
Skoda are supplying a fully-liveried Octavia vRS Estate to the Regional Tour de France Planning Team in West Yorkshire.
The model has been provided to the taskforce by Skoda in preparation for next year's world-renowned cycling race.
It will initially be used to transport surveying equipment as the Planning Team map out the route for the 2014 renewal.
The Octavia vRS Estate will then be deployed to support the competition, which starts in Leeds on July 5.
Inspector Terry Murgatroyd, Operations Support Services at West Yorkshire Police, said: "We are very grateful to be working in partnership with Skoda UK and for its support of British policing in the run-up to this world-class event.
"The availability of this vehicle will make our job much easier as it will enhance our flexibility to attend meetings and events across the region and the country."
Alasdair Stewart, Brand Director for Skoda UK, added: "As a brand, Skoda is heavily involved in the support of cycling events across the UK and Europe.
"The Grand Depart brings the world's most-watched cycling race to the North of England for the first time and we are proud to see our award-winning vehicle playing a crucial part in its success.
"We're certain that its class-leading load capacity, spacious interior and high performance engine will make the Octavia vRS a real asset to the Regional Tour de France Planning Team."