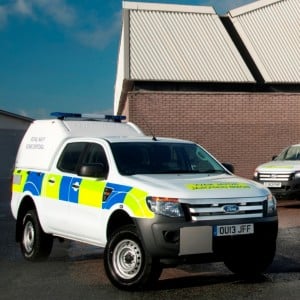 NABBED: MoD pick up 103 Ford Rangers
Ford are to supply more than 100 Ranger pick-ups to the Ministry of Defence (MoD).
To be used by the Army, Navy, Air Force and Ministry, the rugged off-roader will carry personnel, MoD civilians and their equipment around Britain.
The 104 Ranger XL models will be supplied with four-wheel-drive and in a variety of cab configurations, with deliveries via Manchester-based Ford dealer Evans Halshaw.
Each vehicle will have an operational life of between five and seven years.
Steve O'Leary, Programme Manager at the MoD, said: "These Ford Rangers are all vital administrative vehicles.
"Some will be used by service security patrols guarding military establishments, and others will be converted for mountain rescue.
"The Ranger was selected as it is more than able to fulfil the required role in terms of off-road mobility and payload, and also for the value for money it offers."
Paul Henderson, Sales Manager at Ford Direct, added: "We are extremely pleased that the MoD has placed this important order.
"The Ranger is perfectly suited to heavy-duty use and will prove a robust and reliable workhorse in its new career with the military."