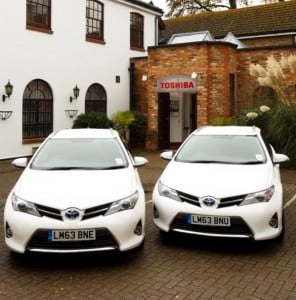 FLEET: Toshiba Tec bag Toyotas
Toshiba Tec are investing in a fleet of Toyota Auris Hybrid Touring Sports vehicles for their UK engineers.
The company, part of the global Toshiba Corporation, have switched to Toyota with an initial order for 28 cars to create a solus fleet.
Based in Chertsey, Surrey, Toshiba Tec provide technical support for their computerised point-of-sale and retail information systems and barcode printers.
Brian Goddard, Fleet and Facilities Co-ordinator at Toshiba Tec, said: "We wanted to secure the most modern and economical solution, a vehicle that has strong environmental qualities that supports our drive to reduce our carbon emissions, but which equally can provide our engineers with reliable transport and the space they need for their equipment."
The vehicle's 1.8litre full hybrid petrol-electric system has official combined cycle fuel economy of 76.3mpg and 85g/km CO2 emissions, when combined with 15inch wheels.
Toshiba Tec's vehicles are being provided by Toyota Fleet Services through the Currie Motors Toyota Centre, Twickenham.