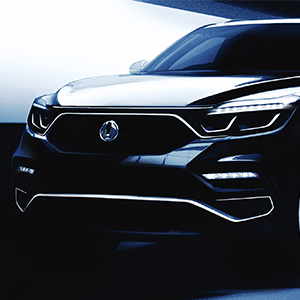 SsangYong Motor Company will unveil its new Y400 (project name) large SUV and flagship model at the Seoul Motor Show.
The new car embodies the robust and dynamic SUV styling seen in the LIV-2 concept shown at the Paris motor show in September 2016, and blends drivability with high levels of safety. With a front mounted engine, rear-wheel drive and 4×4, Y400 will be a class-leading contender. It will offer excellent driving characteristics on and off-road, balanced weight distribution, great towing capability and NVH performance.
Constructed using a Quad-Frame body structure using 1.5Gpa giga-steel – a world first, it also features 63% advanced high strength steel (AHSS) to create greatly improved body strength while reducing weight.
The Y400 is 4,850mm long, 1,920mm wide, 1,800mm high, and has a 2,865mm wheelbase. It will be powered by both petrol and new clean-burning diesel engines.
The car will go on sale in Korea during the first half of this year, and internationally before the end of 2017.