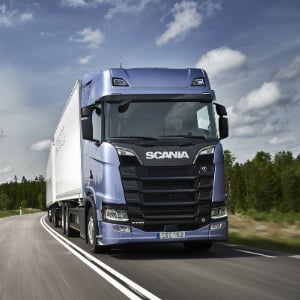 Scania has been handed a £770m fine by the European regulators for involvement in a price-fixing cartel.
The European Competition Commission says Scania, which is located in Sweden, colluded with five other truck makers to agree on the pricing of new vehicles.
This had a result in reduced competition and kept prices artificially high.
Other firms such as MAN, Daimler, Iveco, Volvo/Renault and DAF admitted price-fxing and settled a case last year, getting a 10% cut in their fines in return for their cooperation.
Scania refused to admit any liability and rejected the settlement case.
The company employs more than 45,000 people across 10 countries, including the UK, and supplies trucks to businesses around the world.
All the companies involved coordinated, between 1997 and 2011 to agree on the price of trucks according to the Commission. Along with the timing of when new emissions technologies should be introduced and the details of how the costs of those technologies would be passed on to customers.
Margrethe Vestager, the EU's commissioner for competition
"very substantial numbers of road hauliers in Europe, since Scania and the other truck manufacturers in the cartel produce more than nine out of every 10 medium and heavy trucks sold in Europe".
"These trucks account for around three quarters of inland transport of goods in Europe and play a vital role in the European economy," she said.
"Instead of colluding on pricing, the truck manufacturers should have been competing against each other – also on environmental improvements."
It is thought that a number of major companies in the UK are weighing whether to join a claim being brought by the Road Haulage Association (RHA), which could total almost £4bn.
Scania maintained its innocence and said it was likely to appeal against the regulator's decision.
If you have leased or purchased a truck between 1997 and 2011 you may be due compensation. CLICK HERE to find out.
Courtesy of SkyNews