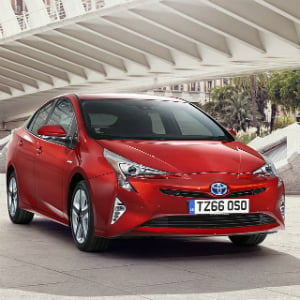 The new Toyota Prius has enjoyed great success in the annual awards season, amassing seven trophies and titles during its first few months on sale. Notably the honours are not limited to environmental performance, but reflect the fourth generation Prius's all-round excellence.
The UK Car of the Year judges set the seal on Prius's winning qualities, naming it Best Family Car – an accolade that qualifies it for a place in the overall car of the year competition at the end of January.
For Carbuyer, the hybrid hatchback saw off all comers in its search for the Best Economical Car, while What Car? considered the Toyota to be the safest model among the market's large family cars.
Prius's advanced driver, passenger and pedestrian protection features and the active systems included in its Toyota Safety Sense package – fitted as standard – also helped it secure the highest scores for a large family car in Euro NCAP's 2016 rigorous, independent test programme.
At the same time as Prius has excelled in these areas – all of them important considerations for customers – it has maintained its reputation as a leader in performance that's kinder to the environment, delivering lower emissions and better fuel economy than any of its predecessors since the original model was launched in Japan 20 years ago. Its status has been recognised by Auto Express, which handed it its Green Award. The international Women's World Car of the Year judges also named it Green Car of the Year and Telegraph Cars accorded it the title of Best Eco-Car.
Paul Van der Burgh, Toyota GB President and Managing Director, said: "The reception for new Prius has been exceptional and we are immensely grateful for the awards the car has received. The breadth of success and the comments made by many respected and independent judges demonstrate how Prius is fulfilling our commitment to make ever-better cars."