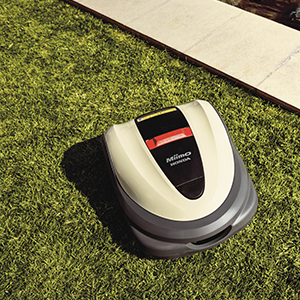 Robotic lawn mowers and its range of cordless handhelds will take centre stage for Honda in its appearance at the first RHS Chatsworth House Flower show in Bakewell, Derbyshire from 7th to 11th June 2017.
In stark contrast to the 300-year-old setting steeped in history and offering some of Capability Brown's most unforgettable landscapes, Honda's display will point to a smarter, cleaner and quieter vision for Lawn & Garden products, with robotic lawn mower Miimo headlining, alongside three ultra-convenient handy handhelds powered by a highly-advanced 56-volt lithium-ion battery.
Visitors to the stand will not only benefit from Honda's popular Tidy offer of up to £400 off selected products, they will also have the opportunity to take part in a Garden Discovery Trail. Trail seekers will uncover the secrets and stories behind Honda's product development and Engineering for Life philosophy and will be in with a chance of winning a £500 e-voucher for Honda's official online store.
Honda Miimo
Miimo is the ultimate time and labour-saving solution for those wanting a beautiful lawn, every day, but can't or would prefer not to cut it themselves. Miimo cuts little and often, typically mowing just 2-3mm of grass at a time, several times each week, meaning less stress on the grass and more healthy growth. Clippings are so small that they do not need to be collected and are dispersed into the lawn root system, breaking down quickly to act as a natural fertiliser.
Miimo is self-charging, powered by a high-performance lithium-ion battery. It navigates the garden through an intelligent combination of controls, timers and real-time sensory feedback, working within a boundary wire around the perimeter of the garden.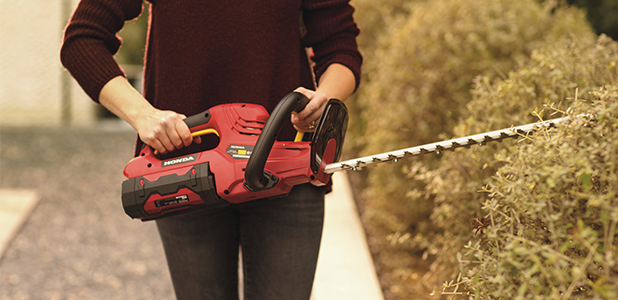 New cordless handheld range
Honda's cordless handheld range makes common gardening chores simple – one highly-advanced 56-volt lithium-ion battery, three interchangeable handy tools to choose from. Lighter, quieter and cleaner, offering high performance, long run-time and fast-charging, the range means no cords, no fuel, no fuss – the ultimate in convenience and ease-of-use.
The hedge trimer features a dual-action, laser-cut, diamond-ground steel blade to deliver precise cutting for a neat finish and healthy regrowth; while the quiet, light and compact leaf blower creates a 120mph airstream through a powerful turbine fan. Making up the range is a lawn trimmer featuring a nylon cord and automatic feed system to give safe, precise cutting with minimal downtime. Two sizes of battery and two different speed chargers are also available, offering up to 130 minutes running time and a full recharge in just 25 minutes.
Versatool
Visitors to the Honda stand at Chatsworth will also be able to get up close and personal with Versatool – the ultimate in flexibility, versatility, performance and convenience. A multitool featuring one light, quiet, efficient and clean four-stroke engine mounted on an anti-vibration shaft, with a choice of eight easy push-and-click attachments including a brushcutter, hedge trimmer, blower, cultivator and pruner. Why should one motor power just one tool?
Market-leading mowers and more
Completing Honda's appearance will be our range of premium petrol-driven lawn mowers, starting with the handy IZY range, through to high-end pedestrian models and lawn tractors. For more demanding domestic and professional users, Honda will also show its high-performance four-stroke hedge trimmers and brushcutters.
Stephen Morris, Head of Power Products for Honda (UK) is pleased to be supporting Chatsworth's first RHS Flower Show, commenting: "There is nothing better than getting out there and talking to our customers, and the RHS Flower Shows are always a great platform for meeting those who love their gardens and want the best tools to get that perfect finish. With a much wider range now featuring robotic and cordless products we look forward to meeting customers old and new, and where better to do it than in the beautiful and inspiring setting of Chatsworth House?"