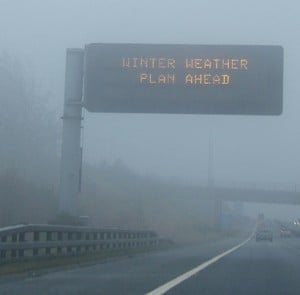 VULNERABLE: Preparation must improve, insist MPs
Improvements must be made by the Highways Agency to better prepare the roads for winter weather, a new Transport Committee report has insisted.
Louise Ellman MP, Chair of Transport Committee, claimed failing to properly organise for the cold season is having a direct impact on people, goods and the economy.
The Highways Agency, Ms Ellman insists, should review the barriers to providing comprehensive real-time information to drivers and identify technological solutions for doing so.
"The availability of salt for gritting roads has improved with the establishment of the strategic salt reserve," she said.
"However, more should be done to keep pavements clear of ice and snow.
"A national advertising campaign should highlight that the public can clear snow and ice from outside their homes without fear of legal action and should consider doing so.
"Embedding a culture of continuous review and improvement must remain a priority for government and transport operators to ensure that all modes and networks are made more robust year after year and that the sector is well placed to address further issues and changing patterns of weather.
"The transport sector must work closely with the Met Office and other forecasters to understand the challenges posed by different types of severe weather.
"A year or two of mild winter weather should never breed complacency or lead to a false sense of security."
Image courtesy of ztephen, with thanks.