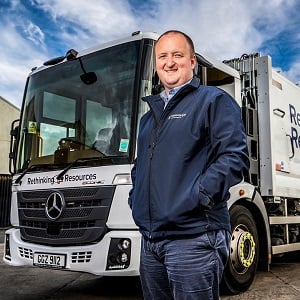 Northern Ireland's leading waste management specialist has completed the latest phase of its ongoing expansion programme, by taking delivery of a new fleet of 20 Mercedes-Benz Econics.
RiverRidge's latest low-entry refuse collection vehicles were supplied by MBNI Truck & Van. RiverRidge, whose headquarters are in Duncrue Street, Belfast, commenced trading in 2011 – since then it has forged a solid working relationship with the Dealer.
All Econic 2630L models, the trucks are powered by fuel-efficient 7.7-litre engines that generate 220 kW (299 hp and drive through Allison six-speed automatic transmissions. Their Titan compactor bodies and trade binlifts are by specialist manufacturer CP Davidson & Sons, of Chorley, Lancashire.
RiverRidge has been running Mercedes-Benz Econics since its earliest days, and has always enjoyed reliable, cost-effective service.
Its operation has grown dramatically over the past five years, during which the company has not only opened a network of depots across Northern Ireland, but also acquired several other businesses and, in the process, inherited their vehicles.
"This left us with a fleet in which several manufacturers were represented," said Transport & Logistics Director Tony Kirkpatrick. "As the oldest of these trucks came up for renewal we were always going to replace them with what we consider to be the state-of-the-art vehicle in the refuse collection sector – the Mercedes-Benz Econic."
He continued: "We know from experience that these trucks will deliver better performance and fuel efficiency than the vehicles they have replaced. Equally important, though, are the Econic's enhanced safety credentials. As well as a low-entry cab which is easily accessed and gives the driver an unrivalled field of vision – both factors that make it very popular with our operatives – this vehicle is also equipped with advanced technology such as the Active Brake Assist 3 emergency braking system."
RiverRidge's new trucks are now collecting trade waste from a wide cross-section of commercial and industrial customers across Northern Ireland, which it then processes at high-tech recycling centres in Coleraine and Portadown.
The subject of a contract hire agreement with MBNI Truck & Van's sister company Rentamerc, both the chassis and the bodies are being maintained at the Dealer's workshops in Newtownabbey and Dungannon.
The RiverRidge fleet now extends to almost 150 trucks and trailers, of varying sizes and configurations. The company takes delivery soon of seven Mercedes-Benz Arocs 3240 eight-wheelers with hookloader bodies. These will join a pair of 8×4 Arocs 32-tonners which have been in service since 2014 and have proved impressively economical and cost-effective to run.
The fleet also includes an 18-tonne Econic skiploader, the first of its kind in Northern Ireland. This truck's low-entry, high-visibility cab makes a significant contribution to increased safety for vulnerable road users.
RiverRidge is the first Northern Irish operator to be awarded Truck Excellence Accreditation from the Freight Transport Association, and won Export and Freight magazine's Excellence in Compliance award for 2017.
Tony Kirkpatrick added: "We've worked hard to build a reputation for high quality service and are determined to build on that by continuing to invest in our facilities and fleet. These new vehicles will add real value, by helping us to ensure that we continue to deliver excellent customer service."