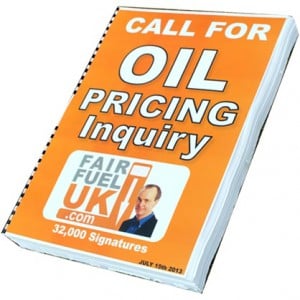 REJECTED: Petition contained 32,000 signatures
The Office of Fair Trading's (OFT) refusal to investigate the issue of UK oil pricing is 'disappointing', the Road Haulage Association have said.
More than 32,000 individuals fed up with high fuel costs signed a petition handed to the OFT on Monday.
Signatories included Fair Fuel UK supporters, members of the public and members of parliament.
However, the OFT almost instantly declared they would not be conducting their own investigation into the issue.
Geoff Dunning, Chief Executive of the RHA, said: "This petition was the culmination of a tremendous amount of hard work and was signed by over 32,000 people, all united in their aim of putting pressure on the OFT to carry out a full, frank and transparent inquiry into oil pricing.
"We were notified within an hour of delivering the petition that, as far as the OFT was concerned, the request for an investigation would be refused.
"In what was obviously a pre-prepared statement they stated that while accepting that the price of petrol and diesel is a 'subject of significant public concern', they still claim not to have received any claims of price manipulation."
The statement stated that the OFT have been 'liaising closely with the European Commission, but cannot take civil enforcement action in relation to the same matters as the Commission'.
Mr Dunning added: "It is a great pity that the OFT's response to the issue of price fixing could not be as positive as their response to our petition.
"It would appear that we will now have to wait and hope for a more positive outcome from the European Commission who have at least acknowledged that this is an issue worthy of investigation".