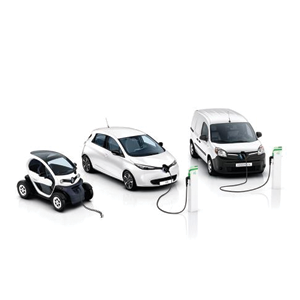 Renault has been awarded the title of Electric Vehicle Manufacturer of the Year at the 2017 GreenFleet awards held at a ceremony in Coventry last night. Renault was also commended in the City Car Manufacturer of the Year category.
Renault offers a range of affordable all-electric cars and vans – including the ZOE with its 250 mile (NEDC) range, the most of any mainstream electric car on sale today, and the recently-upgraded Kangoo Van Z.E.33 with a near 60 per cent improved range of 170 mile (NEDC). Renault is Europe's leading electric car and van manufacturer.
Every year, the GreenFleet Awards recognises organisations which have successfully adopted low emission vehicles and innovative fuel saving solutions into their fleets, along with the manufacturers and innovators of low carbon technologies.
Angela Pisanu, editor of GreenFleet magazine, said; "The winner this year has had their experts come up with new battery technology that has enabled them to increase the range on their small car and van EV offering… With the capability to go for 250 miles on a single charge in the car, and 170 in the van, they are set to revolutionise the EV market with a new larger offering in 2018 too".
Vincent Tourette, Managing Director, Renault UK, said of the result: "Renault has an affordable range of all-electric cars and vans with class-leading ranges that are available, not in a few years' time – but today. And this latest award of Electric Vehicle Manufacturer of the Year from GreenFleet is a fantastic recognition of that. Renault was a pioneer of the all-electric market and is Europe's leading EV manufacturer. With one in four EV sales in Europe a Renault, it's clear that our range of affordable all-electric vehicles is resonating with buyers and we'll be expanding our line-up with the new Master Z.E. panel van next year."
The Renault ZOE was upgraded in 2017 with the new Z.E.40 battery, increasing the ZOE's range by 50 per cent to 250 miles (NEDC) – Renault estimates that in real-world driving conditions that this equates to around 186 miles in summer and 124 miles in extreme cold winter conditions. ZOE can charge from zero to 80 per cent full in as little as 60 minutes thanks to its patented Chameleon Charger™ that allows it to make the most of the widest range of power supplies and also keep charging times to a minimum. Renault's Range OptimiZer technology ensures ZOE is highly efficient with its heat pump – as standard – a bi-modal braking system and Michelin ENERGY E-V tyres.
ZOE is available to purchase in two ways. Firstly, under a battery hire scheme, where ZOE pricing starts at £14,245 (OTR) after the Government Plug-in Car Grant with battery leasing from £49 per month. New for 2017 is the 'Unlimited' option with no mileage cap, priced at £110 per month. It is easy to purchase a used ZOE with a battery lease – the new owner simply chooses which leasing option suits their needs the best and starts monthly payments based on their lease plan. You can also buy the ZOE outright. ZOE i 'full purchase' models start from £18,995 (OTR) after the Government Plug-in Car Grant, giving the buyer full ownership of the car and battery and no monthly battery lease payment.
ZOE is the best-selling electric vehicle in Europe and more than 4,500 ZOE have been sold since launching in the UK in 2013. ZOE is one of three models in Renault's diverse electric vehicle range which also includes the Twizy quadricycle, the Kangoo Van Z.E. and the forthcoming Master Z.E. large panel van.
The Renault Kangoo Z.E.33 was upgraded in the Autumn. With the new Z.E. 33 battery, range was increased by nearly 60 per cent to 170 miles (NEDC) – the longest range of any electric van currently available for delivery. The New Renault Kangoo Van Z.E. 33 range is priced from £14,194.67 (after Plug-in Van Grant, excluding VAT).
This award from GreenFleet adds to other recent awards Renault has received for its all-electric line-up:
•  What Car? Best Electric Car 2017 – Renault ZOE
•  What Car? Best Used Green Car 2018 – Renault ZOE
•  Autocar Game Changer 2017 – Renault ZOE
•  Parkers Eco Car of the Year 2018 – Renault ZOE
•  Pure Electric and Hybrid Cars Green Apple Champion 2017 – Renault ZOE