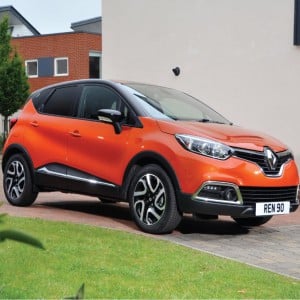 CROSSOVER: New Renault Captur due July 1
Renault's forthcoming Captur has posted an impressive CAP residual value forecast of up to 43% over three years or 60,000miles.
The French marque's first compact crossover – which launches on July 1 – is predicted by CAP to be a residual value match for the Mini Countryman.
CAP believe the Captur Expression 1.5dCi 90 will also benefit from one of the lowest depreciation figures in its class, losing £4,000 to £6,000 less than its closest-priced equivalent.
A Countryman loses up to £17,000, while those closer-priced to the Captur lose anywhere between £11,000 and £14,000 over the same period.
The likely best-seller, the Dynamique MediaNav dCi 90, is forecast to retail 42% over the same period, with the petrol-engined version also performing well.
Ken Ramirez, UK Managing Director of Renault, said: "The eagerly anticipated and completely new Renault Captur will soon be in our showrooms throughout the country; expanding our brand's presence into the rapidly expanding compact crossover class.
"We're delighted that the RV providers, as well as the media and our customers, have recognised its appeal."