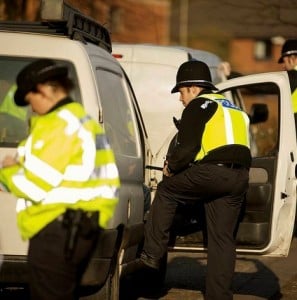 CHECK: Your drivers' offences can put you at risk
Fact: 'It is an offence for a person to cause or permit another person to drive on a road, a motor vehicle of any class, if that other person is not the holder of a licence authorising him to drive a motor vehicle of that class' (Road Traffic Act 1988).
In order to comply with the Road Traffic Act 1988 and as part of duty of care, and health and safety, it is a company's responsibility to ensure that it has in place a robust system for checking the driving licence of anyone who drives on their company business.
All too often, businesses think that just because they have a photocopy of a driving licence from an employee that they have an accurate representation of the drivers licence status, but in reality this is not always the case.
Fleet Managers, HR departments and business owners do not always realise that a licence record is dynamic and can change at any time, subject to convictions and personal changes.
A paper copy is merely an historical record and may not reflect the status of the licence as held at the DVLA at any one time.
Imagine this scenario: a driver collects a number of points for speeding after you have taken a copy of his licence, but does not inform you.
If the driver does not return the licence to the DVLA for updating within 28days of conviction, the licence will be automatically revoked and the driver will be unable to continue to drive.
If he or she is still on the road, driving on company business, they are putting you at potential risk of prosecution under the Corporate Manslaughter and Corporate Homicide Act 2007.
Fundamentally, the Act means that, in the event of a fatal incident involving an employee driving on company business, an employer may be required to provide evidence of policies and procedures which confirm an employee's eligibility to drive, and have precautionary measures in place to ensure their safety on work related journeys.
Failure to manage risk, audit and update policies may lead to prosecution under the offence of corporate manslaughter.
Fact: In 2012 there were 265,877 vehicles involved in reported accidents, of which 2,850 had fatalities.
When did you last check the driving licences for those driving on your company business?

You should be asking yourself now whether your systems and procedures can tell you today if your drivers:
Are disqualified or revoked
Have lost or are close to losing their licence through totting up points
Have the right category classification on their licence to drive specific vehicles
Have expired entitlements, short-term entitlements or expired photocards
Are high-risk due to nine penalty points or more, drink-driving or driving without insurance, and many more
Have vocational medicals due for renewal
Have unresolved or disputed offences with the DVLA
Have an incorrect licence address
Can you be sure that the information you hold for every driver who is on the road for you at the moment, is the most up-to-date that it can be?
If the answer is NO then you need to be looking to LICENCECHECK for a more reliable option that will reduce your potential risk, manual administration, and save yourself the frustration and resources of checking licences manually.
The Service
The LICENCECHECK electronic service programme uses the latest technology to allow you to check your employee's UK driving licence details, status and credentials using the DVLA record.
It is a fully-secure service which allows authorised user access at any level within your organisation and provides full driver and licence reports.
Consent
Under the Data Protection Act, an employee must consent to their licence details being checked.
LICENCECHECK obtains this permission by issuing a D796 Driver Mandate Consent Document which once signed by the employee or nominated driver is valid for up to three years, providing he or she remains within your employ or control and does not withdraw their consent.
This means that you can recheck the licence as often as required.
The Process
Once consent has been granted and the D796 Driver Mandate Consent Document has been submitted, the LICENCECHECK service is able to access the DVLA 'LIVE' database via a dedicated secure government gateway connection.
Licence information is then made available, usually within 24hours, to your customer portal account.
Results
The licence results will:
Verify that the driver is licensed to drive
Verify the current endorsement status and penalty points (if any)
Confirm all category entitlements, including start and end dates
Provide warnings and 'immediate actions' in case of expiries, and revoked or disqualified drivers
Alert you to vocational medicals requiring renewal
And much more…
The Cost
There is no software license or hosting fee for the service and no charge for setup, training or telephone support.
You are simply charged for how many licence checks you intend to make. For example, if you have 50 drivers and wish to check them once a year, you will be charged for 50 credits, where one credit equals one check.
Typically, clients check their drivers at least twice a year.
Summary
LICENCECHECK is a cost-effective secure online solution which:
Takes away the administrative burden of manually checking driving licences, which is both time consuming and leaves a margin for error
Has a responsive turnaround and includes full support and training
Puts you in control by giving you the information you need at the click of a button to ensure your drivers are legal, valid and up-to-date
Call us to find out more on 0845 226 9686, or visit our website
It's a small price to pay for compliance and peace of mind…
Contact Information
This article is an advertorial by the LICENCE CHECK.
Image courtesy of West Midlands Police, with thanks.