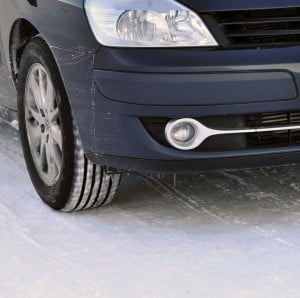 FREEZE: Winter tyres essential for November
Allianz Global Assistance are urging motorists to prepare their cars for November's predicted record-breaking snowfall.
Meteorologists believe next month could be an extremely white one, and the pan-European roadside assistance experts claim winter tyres are a vital investment for drivers.
Such tyres, insist Allianz, will prolong the life of standard tyres and improve general car safety in cold or slippery conditions.
General checks including front and rear lights, wiper blades and levels of oil, water and screenwash are also being advised.
Lee Taylor, of Allianz Global Assistance UK, said: "We understand that motorists can be put off by the cost of winter tyres, but it's important to remember that they are a long-term investment.
"Also, our increasingly harsh winters have increased demand for winter tyres, which of course creates greater competition and reduces the price, so they are more affordable than ever.
"Most drivers will have to replace the full set of tyres on their vehicle at some point during ownership.
"Swapping to winter tyres for a few months each year not only means they last many years, but it saves wear and tear on a car's standard tyres and helps them to last much longer too.
"This means the standard tyres need replacing less frequently, making the cost of the winter tyres much less prohibitive over the ownership cycle.
"If and when the promised snow does hit, we would expect to see what have become all-too-familiar scenes in the media of vehicles stuck in gridlocked traffic or having collided with other vehicles or skidded off slippery roads and into snowdrifts.
"Too many UK drivers and their cars are simply not prepared to cope with these extreme conditions as they have not been the norm up until very recently.
"Our European neighbours, who expect extreme winters every year, take time to prepare their cars fully which means they are not only safer but also more able to continue as normal even when ice and snow does hit.
"Unfortunately UK drivers often seem to put perceived additional cost above safety in this respect, but as our winters become harsher and the roads more dangerous, we must all do what we can to protect ourselves and other road users.
"Fitting winter tyres can help motorists stay on the road and stay safe."