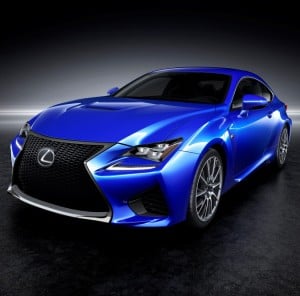 UNLEASHED: New Lexus RC F
Lexus' new RC F will be equipped with the manufacturer's most powerful V8 engine yet, it has been revealed.
Generating more than 450hp, the high-performance RC F will also boast world-first use of a Torque Vectoring Differential in a front-engine/rear-wheel-drive sports car.
Designed to raise driving enjoyment by increasing traction and control, the system has three operating modes – standard, slalom and track.
Lexus have harnessed the 5.0litre engine's potential with the best-possible efficiency by employing a newly-calibrated eight-speed transmission.
Yukihiko Yaguchi, RC F Chief Engineer at Lexus, said: "I've built the RC F to be enjoyed by all enthusiasts, no matter what their level of expertise.
"There's a false perception that racing cars are hard to drive.
"In fact, they're easy in the right hands because they've been purpose-built for the skill level of their drivers.
"It's the same with the RC F.
"Electronics can be modified instantly on board to provide appropriate levels of performance and protection.
"But even at its basic setting, it's a blast!"
The RC F features its own interpretation of the Lexus signature spindle grille, while the front of the bonnet is set higher than on the RC.
It is paired with ten-spoke 19inch forged aluminium wheels, with three versions available, including one that's hand-polished by craftsmen.