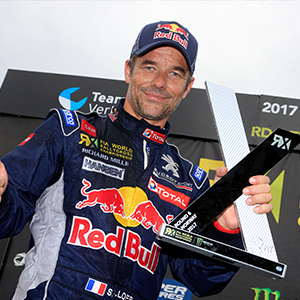 It turned out to be a weekend of ups and downs for Team Peugeot Hansen at the 2017 FIA World Rallycross Championship's sixth clash at Hell, Norway. But Sébastien Loeb turned the tide to earn the PEUGEOT 208 WRX 2017's fourth top-three result of the season.
A complex start to Round 6 in Norway saw the two PEUGEOT 208 WRX 2017s trade their latest evolution engines for former specification versions as a precautionary measure after one of its parameters failed to match expectations. The switch came after Friday's free practice run in the case of Timmy's car and on Saturday for Sébastien.
Timmy Hansen's run nearly ended during Q3 when he smashed into a concrete wall on the session's first lap. He escaped unhurt but his PEUGEOT 208 WRX sustained significant front-end damage. Excellent work by Team Peugeot Hansen's mechanics got the car back into shape in time for Q4, however, and their efforts were rewarded when Timmy qualified for the final!
Three days after passing his end-of-school exams, Kevin Hansen posted some superb results in his PEUGEOT 208 WRX 2016. He came sixth in Q1, then fourth in Q4 to equal his best-ever qualifying result to date (at Lohéac, France, in 2016).
With the first half of the 2017 now behind it, Team Peugeot Hansen is second in the provisional Teams' standings ahead of the next round on the Hansen family's home turf at Höljes, Sweden, on July 1-2.
Kenneth Hansen (Team Principal)
"We thoroughly deserved today's podium finish! We were quick out of the box this weekend and, despite suffering a few setbacks, we never gave up. After Timmy's tangle with Solberg in Q3, I honestly didn't know whether his car would be ready again in time for Q4 but the mechanics did yet another first class job to make repairs in just over an hour. That allowed Timmy to qualify for the semi-finals, and then for the final where he joined Sébastien who ended up on the podium. Given the circumstances, there is good reason to be pleased with the overall outcome, even though our sights continue to be firmly set on victory. We're not far off that and we will do our best to finish on the top step in Sweden in three weeks' time."
Sébastien Loeb (PEUGEOT 208 WRX #9), 3rd
"I'm very pleased to be on the podium here at Hell. My weekend got off to a strong start with the fastest time in the first practice session but I then lost ground during the qualifying phase because of how the races unfolded. I was glad when qualifying ended. Thankfully, I managed to turn the table with good runs in my semi-final and then in the final. It's a good result but I know very well that we need to keep up the hard work."
Timmy Hansen (PEUGEOT 208 WRX #21), 5th
"If someone had suggested that I would reach the final after what happened in Q3, I would never have believed them. All the mechanics pulled together to do an incredible job after my crash, though, and it was their commitment that enabled me to come away with more valuable championship points and get both our PEUGEOT 208 WRX 2017s into the final. It wasn't an ideal weekend overall and that's a shame because I think I had the speed to challenge for the podium. Unfortunately, I made a small mistake which cost me vital tenths of a second."
Kevin Hansen (PEUGEOT 208 WRX #71), 9th
"It was a weekend of ups and downs for me at Hell. I started well by coming sixth in Q1 but the change in the conditions for Q2 didn't play out well for me. Things went better as the track dried today and I managed to bag third in Q4! That's my best result of the year so far and it earned me a place in the semi-finals. Unfortunately, the eventful first lap of my race prevented me from joining Timmy and Sébastien in the final as I had been hoping."
FINAL POSITIONS – HELL (June 11, 2017)
Johan Kristoffersson (Volkswagen Polo GTI)
Andreas Bakkerud (Ford Focus RS)
Sébastien Loeb (PEUGEOT 208 WRX)
Mattias Ekström (Audi S1)
5. Timmy Hansen (PEUGEOT 208 WRX)
Timur Timerzianov (Ford Fiesta)
PROVISIONAL CHAMPIONSHIP STANDINGS AFTER SIX ROUNDS
Drivers' standings
Johan Kristoffersson (Volkswagen Polo GTI), 151 points
Mattias Ekström (Audi S1), 143 points
Petter Solberg (Volkswagen Polo GTI), 134 points
Timmy Hansen (PEUGEOT 208 WRX), 102 points
Sébastien Loeb (PEUGEOT 208 WRX), 102 points
Andreas Bakkerud (Ford Focus RS), 100 points
Ken Block (Ford Focus RS), 66 points
Timo Scheider (Ford Fiesta), 58 points
Toomas Heikkinen (Audi S1), 55 points
Timur Timerzianov (Ford Fiesta), 52 points
Teams' standings
Volkswagen PSRX, 285 points
Team Peugeot Hansen, 204 points
EKS Audi, 198 points
Hoonigan Racing Division, 166 points
MJP Racing Team Austria, 115 points
STARD, 82 points