Halfords Yuasa Racing leave Croft Circuit this weekend heading into the mid-season break in an enviable position, with Gordon Shedden maintaining his lead in the Drivers' Championship and team mate Matt Neal salvaging fifth place in the final race of the day after a challenging weekend.
The weekend began with a dramatic rain-interrupted qualifying on Saturday afternoon which was suspended after just a few minutes when oil on the wet surface at Barcroft Corner caused 11 cars to tumble off the track. The session stopped, with times taken at that point to form Sunday's race one grid.
Shedden and Neal had completed one flying lap apiece and lined up fourth and eighth respectively for Round 13 of the Dunlop MSA British Touring Car Championship.

The duo's fortunes were mixed in the opener. Neal moved up two places to sixth by the end of lap one but retired with damaged left rear suspension after contact with Josh Price's Subaru.
Shedden, with the maximum 75kg of success ballast on-board, maintained his fourth place throughout 14 of the 15 laps, finally succumbing to pressure from the lighter BMW of Rob Collard on the ultimate corner of the final lap – leaving him fifth.


Race two provided more points for championship leader Shedden, who finished a hard fought fourth. The experienced Neal, who started from the back of the grid in 29th – thanks to that first lap incident in Round 13 – finished 18th.
The third race of the day was to be the highlight of Neal's weekend, scything his way from 18th to an impressive fifth in a Honda Civic Type R he described as 'awesome'. Flash continued to score, with a ninth place cementing his mid-season standings lead.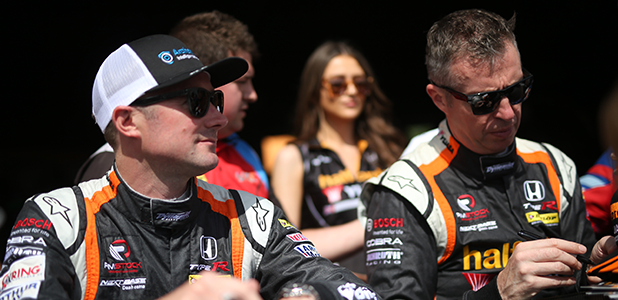 Gordon: "To come away from here, after last year's results at Croft, leading the championship is mega. It has been a hard-fought weekend for me where we were struggling with out and out pace against the rear-wheel drive cars, but I have emerged with a good points haul and happy to go into the sabbatical at the sharp end. This time last year I was ninth in the standings and 52 points off the lead and I went on to win the championship, so I am clearly in a great position. I always say championships are won on the bad weekends and not the great ones so if this is bad, I will take it. Overall, I am disappointed but it could have been much worse. My thoughts go out to the boys who suffered injuries in the qualifying accidents. I hope they all make a speedy recovery."
Matt: "This weekend was a case of what might have been for me. Obviously qualifying jumbled the grid and then it was just bad luck in the first two races. In race one, Price ran into the back of me and broke my rear suspension. In the second race, I hit some fluid through the Esses while making my way through the pack and that did a huge amount of damage which blunted my pace. In the third race the little Civic Type R was awesome, it was hooked up from the start and I managed to carve my way through the pack to finish fifth and gain many much-needed points. I am looking forward to the summer break now and will come back fighting in the second half of the season with it all to play for."