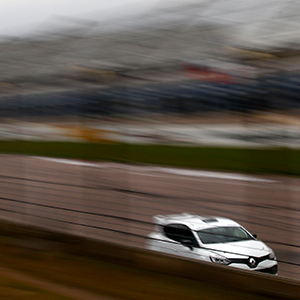 The new Renault UK Clio Cup Junior championship's inaugural race season in 2017 will be shown on the recently re-branded Motorsport.tv television channel (previously known as Motors TV).
Motorsport.tv, now fully HD, is available in the UK for Sky or Virgin Media subscribers (Sky channel 447 and Virgin Media channel 545).
UK Clio Cup Junior's six events will each receive up to an hour's coverage which will then be supplemented by repeats.
Each event will comprise two rounds to make a 12-round calendar. They will take place at Thruxton, Hants (3-4 June); Rockingham, Northants (1-2 July); Donington Park, Leics (22-23 July); Snetterton, Norfolk (9-10 Sept); Brands Hatch, Kent (23-24 Sept); Pembrey, Carms (14-15 October).
Digitex Television will film the events. It has previously covered many different motor sport categories for the likes of Motorsport.tv, Eurosport, BT Sport and even ESPN.
Director and Producer Barry Welch commented: "UK Clio Cup Junior comes from a really fantastic motor sporting stable in Renault Sport. The cars are a proven quantity and the championship – effectively the baby brother to the senior UK Clio Cup – looks as if it is going to be very exciting and competitive. Indeed something of a ground-breaker for drivers of this age…"
Digitex Co-Producer Richard John Neil, who commentates on the senior UK Clio Cup for ITV4, added: "The Renault UK Clio Cup Junior championship is certain to provide some exciting racing. I can see youngsters wanting to make the most of this direct path into the senior championship and then to touring cars which already has so many stars from UK Clio Cup.
"The ingredients are all there – talented young drivers, established teams, Renault Sport's organisation and enthusiasm plus the car itself. I can't wait for the opening rounds…"
And said Patrick Rivet, Editorial Director of Motorsport.tv: "A few years ago Motorsport.tv – at the time Motors TV – broadcasted the Formula Renault UK Championship, which was won by Lewis Hamilton. The channel has always supported these competitions that give young drivers that first step on the motor sport ladder. Broadcasting Renault UK Clio Cup Junior in the United Kingdom and Ireland in 2017 carries on this tradition."
Will Fewkes, Renault Sport's UK Motorsport Championship Manager, said: "We're delighted to be a part of Motorsport.TV's content – particularly at a time when the channel is going through an exciting restructuring in terms of look, feel and promotion.
"An hour's coverage plus highlights from each event, expertly produced by Digitex who really know their stuff, is going to make for very interesting viewing and provide the UK Clio Cup Junior's drivers with some very worthwhile exposure as they join Renault Sport to begin their car racing careers."