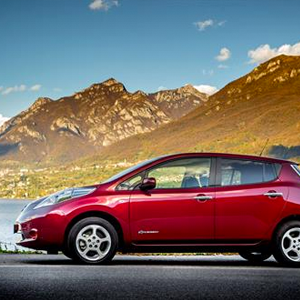 Nissan is offering customers up to £2,000 plus trade-in value on their old vehicle to 'switch' into a 100% electric, zero-emission Nissan LEAF – the UK's best-selling electric car – for as little as £100 a month.
The Nissan Switch Scheme, launched today, gives additional support to owners of cars and LCVs with pre-Euro V engines, to help them replace their vehicle with a zero-emission, 100% electric LEAF, or one of Nissan's efficient range of new passenger cars.
From 1st to 30th September, drivers of eligible vehicles registered before the end of 2009 with a pre-Euro V engine can trade-in their car or LCV at participating Nissan dealerships to receive up to £5,000, plus trade-in value for their current car, off a new Nissan model. Or they can receive up to £2,000 plus vehicle trade-in value off an approved-used Nissan LEAF 24kWh.
Thanks to the Switch Scheme, Nissan LEAF ownership has never been more accessible. Payments on a three-year 3.9% APR PCP can be lower than £100 a month for a used LEAF 24kWh with trade-in value and Nissan Switch Scheme contribution. A free Home Charging Unit worth £279 is also provided in the offer.
The Nissan LEAF 24kWh delivers a driving range of up to 124miles (NEDC) with running costs from just 2p a mile*. Other benefits to owning an all-electric vehicle include £0 annual VED, lower maintenance costs compared to combustion-engine vehicles, and London Congestion Charge exemption. For somebody living outside the congestion zone but driving into it five days a week, each week of the year, this could mean an annual saving of over £2,500.
Sample Offer:
EXAMPLE MODEL

OTR PRICE

TOTAL SWITCH
SCHEME SUPPORT

SAMPLE CUSTOMER
VEHICLE TRADE-IN VALUE

CUSTOMER MONTHLY
PAYMENT
(3yr/6k annual
mileage/3.9% APR PCP)

2014 LEAF 24kWh Acenta (30k miles)
£10,495
£2,000
£2,500
£87.58
"Since 2010, Nissan has pioneered and led the charge for widespread electric vehicle adoption. As we ready to unveil the all-new Nissan LEAF, a car that will convert many more thousands of motorists to all-electric driving, we're launching a new campaign to encourage drivers of older vehicles to make the switch to cleaner electric power;" commented Alex Smith, Managing Director of Nissan Motor (GB) Ltd.
"Nissan's campaign isn't just about new cars. We're including our latest efficient conventionally-powered models, but uniquely we're delivering an attractive trade-in offer on our stock of approved-used all-electric LEAFs."
Demand for electric vehicles has risen significantly in the last few years as more people realise the practical benefits of running an EV. Figures from the SMMT show the Alternative Fuel Vehicle (AFV) segment was up 65% in July 2017 vs July 2016, commanding a record 5.5% market share in the month.
In 2017, around one in two EVs sold in the UK has been a Nissan, with the Nissan LEAF the UK's best-selling all-electric vehicle.
Nissan established itself as a pioneer in the EV movement by launching the LEAF in 2010, the world's first mass-market electric vehicle. On September 6th, Nissan is unveiling the all-new Nissan LEAF, an icon of Nissan Intelligent Mobility.
The Nissan Switch Scheme will run from 1st September to 30th September 2017. Retail customers only. Offer available to UK (excluding Channel Islands and Isle of Man) residents only. At participating dealers and subject to availability. For full terms and conditions and to check car eligibility for trade-in, visit www.nissan.co.uk or contact a local Nissan dealer.