Nicolas Hamilton (Welwyn Garden City) has announced a full-time return to the Renault UK Clio Cup with the WDE Motorsport team, starting at the championship's next rounds at Cheshire's Oulton Park circuit (Sat 20/Sun 21 May).
The 25-year-old, brother of triple Formula One World Champion Lewis Hamilton, raced in the UK Clio Cup in 2011 and 2012 before a brief spell in the British Touring Car Championship.
Nearly two years after last racing, however, he is ready for a return to the track and believes the UK Clio Cup is the best place to be…
He commented: "I'm looking for a way to continue developing my race craft in a championship I know is very, very competitive – the UK Clio Cup is just that and it gives me the right environment to prepare for a return perhaps to touring cars.
"The budgets are also sensible – contrary to popular belief I have to make this happen myself. It isn't gifted to me on a plate and it's why I've not raced since 2015 – I've been busy putting together the funding!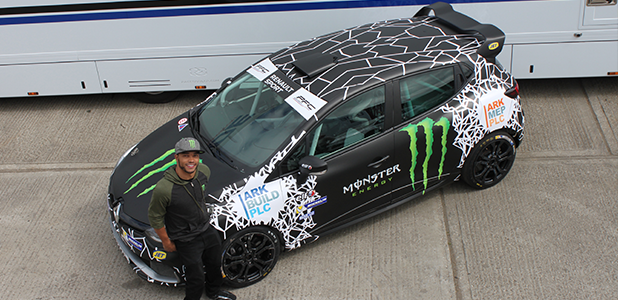 "Being a Hamilton has its pros but also its cons… it can help with networking but it can also mean people are quick to judge and the expectations can be high. I am doing this for myself."
With WDE, Hamilton will join three-time Champion Paul Rivett and Lee Pattison – both very much in the running for this year's title – as well as exciting prospects Dan Zelos and Paul Streather. WDE also currently leads the UK Clio Cup's teams' championship. Hamilton's entry will be backed by Monster Energy, Ark Build plc, Ark MEP plc and JET.
"I've met the WDE people twice and have instantly bonded with them," added Hamilton. "They are a very easy-going bunch and I'm looking forward to working with all of them – Paul Rivett, in particular, I suppose because of his successes. Ultimately it's down to me to drive as well as I can and see where my pace puts me."
Being affected with Cerebral Palsy means Hamilton will require some cockpit modifications, although these won't be to the same extent as in cars he's previously driven.
"All it's required with the UK Clio Cup car is a quick-release steering wheel to help me get out and the installation of a hand clutch over a foot clutch," he explained.
WDE Team Principal Wayne Eason enthused: "We are of course thrilled to have Nicolas join our line-up. He's a real inspiration to young people and it is also very clear he has a lot of potential as a driver. As our results have shown so far this year, the environment we offer brings out the best in drivers and we look forward very much to seeing how far we can take Nicolas over the remainder of the season."
Will Fewkes, Renault Sports UK's Motorsport Championship Manager, stated: "It's a real pleasure to welcome Nicolas back to the UK Clio Cup having proved very popular before with the huge numbers of fans who watch our races trackside and on ITV4. In fact here at Renault Sports UK, we've known Nicolas for quite a few years – right back to when Lewis became our Formula Renault Champion in in 2003! We've been talking to him about this deal some time and it's great to see it come to fruition. It will be interesting to follow his progress under WDE's wing – particularly when the UK Clio Cup is at such a competitive level."