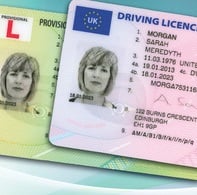 STYLE: New photo driving licence revealed
A new style photocard driving licence is being introduced by the DVLA.
The new card, provided by Gemalto (UK), will be released this month, offering a refreshed design and numerous improved security features.
Security innovations include a new holograph, raised surface pattern and an Optical Variable Ink (OVI), helping fight against fraud.
Holders of valid driving licences will not need to replace their current driving licence.
The old driving licence format is still valid and will be updated gradually as they are renewed and replaced.