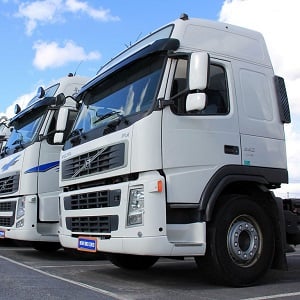 The UK's new heavy goods vehicle (HGV) market declined in the first quarter of 2018, according to figures released today by the Society of Motor Manufacturers and Traders (SMMT). 9,785 new commercial vehicles over six tonnes were registered, a fall of -6.0% as ongoing economic uncertainty added to the effects of the sector's naturally long fleet renewal cycles.
Registrations of artic trucks increased in the first three months, up 6.6% to 4,171 units. At the same time, demand for rigid vehicles declined -13.5%, with a -21.6% decrease in the >6-16T segment and a -8.4% decline in the >16T segment.
Tractors were the most popular body type, accounting for 42.5% of the heavy goods vehicles that joined British roads in Q1. Refuse disposal vehicles, meanwhile, experienced the biggest increase in demand, up 7.3% year on year.
Mike Hawes, SMMT Chief Executive, said,
"Fluctuating fleet orders are a natural feature of the HGV market and, following strong demand in Q1 2017, this fall isn't altogether unexpected. However, with this now the third consecutive quarter of decline, it is clear that economic and political uncertainty is having an impact. We need government to create the right conditions to give operators confidence to invest in their fleets and get more of the latest, safest and low emission commercial vehicles onto our roads."