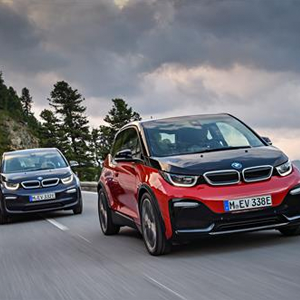 With over 8,000 vehicles sold in the UK since launch, the BMW i3 is the best-selling electric car in the premium compact segment. Now, the success story is set to continue with a major refresh, new technology and the addition of a new, sportier variant, the BMW i3s.
With a higher output, model-specific chassis technology, enhanced handling and design features, the i3s offers driving pleasure along with zero local emissions, premium quality and a new level of connectivity technology.
The new BMW i3 and new BMW i3s will celebrate their world premieres at the International Motor Show (IAA) in Frankfurt/Main in September 2017. The global market launch will begin in November 2017.
Two power outputs and optional range extender engine
Following systematic refinement, the BMW eDrive technology aboard the new BMW i3 and new BMW i3s offers emission-free driving with instantaneous power delivery, efficient use of energy and increased range. Both models draw their energy from the lithium-ion high-voltage battery with a capacity of 94Ah (33kWh). A range-extender engine can be ordered as an option for both models.
Emission-free fun at the wheel: two power options
The synchronous electric motor powering the new BMW i3 generates a maximum output of 170hp and reaches a peak torque of 250Nm, all of which is available instantly from a standstill. This means that stepping on the accelerator pedal immediately unleashes a burst of speed. The power is transferred via a single-speed automatic transmission meaning the zero to 62mph benchmark sprint can be achieved in 7.3 seconds. Top speed is limited to 93mph.
Located low in the vehicle floor, the lithium-ion high-voltage battery provides a range of 180-186 miles* based on the NEDC cycle, 146 to 158 miles** as per WLTP and up to 125 miles*** in everyday use. The combined electric power consumption of the new BMW i3 on the NEDC cycle varies between 13.1 and 13.6kWh for every 62 miles*.
Outstanding driving dynamics: instantaneous torque, superb traction and controlled drifting
The agile handling characteristics of the BMW i3 have been improved still further by the optimised Dynamic Stability Control (DSC) system. This faster responding traction control system guarantees confident handling under all driving conditions. The BMW i3 now features a unique form of wheel speed limiting that ensures increased directional stability both under acceleration and on the overrun with strong regenerative braking. Traction during pull-away on snow and wet roads has also been noticeably improved. DTC (Dynamic Traction Control) mode now boosts agility at higher speeds even allowing mild and safely controllable drifts on cornering.
A new sportier BMW – the i3s
The new BMW i3s is powered by a high-performance 184hp electric motor that generates peak torque of 270Nm. Its updated drive system includes modified motor control and specific taper roller bearings, which have been utilised to further optimise power delivery and the performance curve at higher rpm. At the limits of the motor speed range, the power and torque of the further developed drive system represent an improvement of up to 40 per cent for the BMW i3.
What's more, the new BMW i3s boasts sports suspension with specially developed springs, dampers and anti-roll bars. Drivers can also select SPORT mode using the Driving Experience Control switch which delivers a more direct accelerator response and tighter steering characteristics.
The new BMW i3s utilises sports suspension that includes a 10mm drop in ride height. The additional 40mm of track width compared to the BMW i3 is given added impact by the black wheel arch borders. The new BMW i3s comes as standard with exclusive 20-inch light-alloy wheels in double-spoke design that are 20mm wider than the previously available versions. They come as standard in Bicolour and are optionally available in Jet Black.
The BMW i3s is capable of get from zero to 62mph in 6.9 seconds on its way to a top speed of 99mph. It returns a combined electric power consumption of 14.3kWh per 62 miles* on the NEDC cycle. Its electric range runs to 174 miles* based on the NEDC cycle, 146 to 152 miles** as per WLTP and up to 125 miles*** in everyday use.
A 38hp two-cylinder range extender petrol engine is available as an option for both the new BMW i3 and the new BMW i3s. The engine drives a generator that produces power as required while driving to maintain a constant level of charge in the high-voltage battery. This extends the car's overall range in everyday use by 93 miles, increasing it from around 112 miles to a maximum of 205 miles***. The all-electric range of the new BMW i3 with range extender is 140 – 146 miles* as per NEDC and 118 – 124 miles** as per WLTP. The corresponding figures for the new BMW i3s with range extender come in at 137 miles* on the NEDC and 115 to 121 miles** on the WLTP cycle.
On the NEDC cycle, the new BMW i3 with range extender returns combined consumption figures per 62 miles of 11.9kWh to 11.5kWh of electric power and 0.6 litres of fuel (CO2 emissions: 14 –13 g/km)*. On the same combined NEDC cycle, the new BMW i3s with range extender consumes 12.5kWh of electric power per 62 miles and 0.7 litres of fuel (fuel consumption of 403.5mpg imp; CO2 emissions: 14 g/km)*.
Model
Power
(hp)
Torque  (Nm)
0 – 62mph (Seconds)
Top Speed (mph)
Combined (mpg)
CO2 Emissions (g/km)
From

(OTR)

BMW i3
170
250
7.3
93
n/a
0
£34,070
BMW i3 Range Extender
170
250
8.1
93
tbc
13-14*
£37,220
BMW i3s
184
270
6.9
99
n/a
0
£36,975
BMW i3s Range Extender
184
270
7.7
99
tbc
15*
£40,125