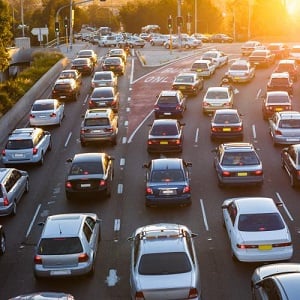 Council leaders have revealed that the number of vehicles on England's clogged roads has risen by nearly two and a half million in the last five years.
Over the same period, road space has only increased by 0.6 per cent meaning that there are significantly more vehicles per mile of road. This then increases congestion, air pollution and road surface issues.
Figures indicate that there are 2,460,900 more vehicles on the road in 2017 when compared with five years ago in 2013, while road length in England has only increased by 0.6 per cent over the same period and that UK drivers wasted an average of 31 hours in rush-hour traffic last year, costing each motorist £1,168.
The LGA urges the government to recognise the need to match the increased infrastructure pressures and demand on our local roads with a radical new strategy to provide a fully-funded plan, as well as new powers to better manage congestion. This needs to include reinvesting 2 pence per litre of existing fuel duty which would generate an extra £1 billion a year for councils to spend on local roads maintenance and help tackle the £9.3 billion backlog of repairs.
Martin Tett, LGA Transport spokesman, said: "England's roads are currently gripped by a growing congestion crisis. Very few journeys begin and end on a motorway or trunk road yet government funding on the strategic road network is 52 times higher than for local roads. Spending more on improving our national roads will only serve to speed vehicles up between increased delays and congestion on local roads.
"It would already take more than £9 billion and over 14 years for councils to clear the current local road repairs backlog. Reinvesting 2 pence per litre of existing fuel duty into local road maintenance would generate £1 billion a year for councils to start tackling the backlog and improve our local roads.
"Councils are working hard to combat traffic and congestion but need to be able to do more to tackle this growing problem. The government should implement the recommendations of the National Infrastructure Assessment and give councils long term funding certainty for transport investments that will enable councils to embark on the widespread improvement of our roads that is desperately needed, to the benefit of all road users up and down the country."