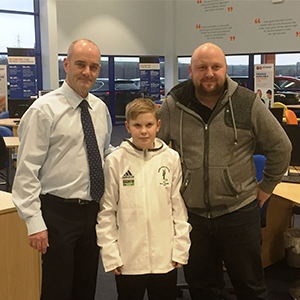 Motorpoint, the UK's leading car supermarket, has helped a young footballer realise his dream by flying off to Spain to train with Real Madrid.
Jake Proctor, who attends Castleford Academy, has been playing football since the age of five and is currently playing as an attacking midfielder for Robin Hood Athletic JFC.
A promising talent, he was offered the opportunity through the club to participate in the coveted Coerver Performance Academy at Real Madrid during which time Jake worked with the Los Blancos coaches as well as watched their 2-1 victory against Espanyol on Saturday at the Santiago Bernabéu Stadium.
Motorpoint, which is based only a short drive from the J32 Outlet Centre in Castleford, paid the cost of Jake's return flights from Manchester to Madrid as well as his accommodation during the five day trip to the Spanish capital.
"I can't thank James and the team at Motorpoint in Castleford enough," explained Stephen Proctor, Jake's father. "As you can image it's not cheap travelling to Madrid and the money they provided made all the difference and enabled Jake to take part in the Coerver Performance Academy. He had a wonderful time and learnt a lot which I know he can't wait to put into practice for Robin Hood Athletic this weekend."
James Faulkner, General Manager of Motorpoint in Castleford, added: "It was a pleasure to be able help Jake realise his dream and train with Real Madrid and I am sure it will prove really beneficial in his future development as a footballer."
Motorpoint celebrates its first anniversary in West Yorkshire in April. The five acre site, which is located on Whistler Drive, stocks over 500 new and nearly low mileage cars from over 30 different manufacturers.