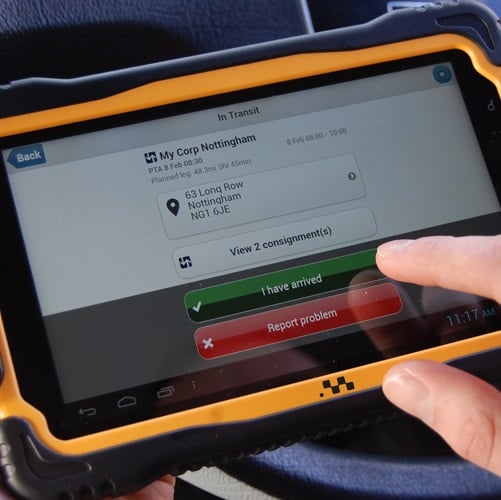 DEVICE: Microlise DriveTab
Microlise have launched DriveTab, a new in-cab driver communications tablet.
The device is seven-inch, Android-based and touchscreen, and can be fixed in-vehicle or used hand-held via a dedicated charging bracket.
It facilitates driver ID, text and voice communications, trip sheet, integrated satellite navigation, task management and unique driving style coaching functionality.
DriveTab also shares the same core software as Microlise's SmartPOD application, meaning it can be optionally removed from the cab to carry out hand-held e-POD with image & signature capture.
It also can be 'locked down', only allowing the driver access to the applications and functions on the device which they are required to use.
Where fitted, communications between a Microlise Telematics Unit and DriveTab are facilitated via Bluetooth communications.
Meanwhile, where a Microlise telematics unit is installed, the driver can automatically log-on via the digital tachograph unit.
Matt Hague, Product Strategy Director at Microlise, said: "We've seen great success in the couple of months since we launched our SmartPOD application for smartphones.
"Re-using this software but tailored for a new in-vehicle tablet, has helped us come to market with a cost effective, ruggedized, functionally rich and flexible in-vehicle communications solution for our customers."