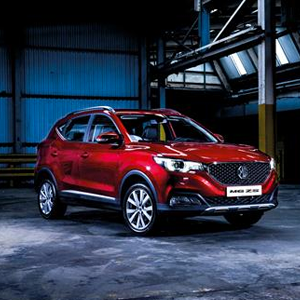 Are you and your MG ready to tackle the winter weather? Whether it's making sure that tyre treads and pressures are correct, or that the battery can withstand the cold weather, it's always a good idea to ensure that you are prepared.
With about one third of all accidents in the winter months directly attributable to weather or road conditions, MG Motor UK has prepared its top tips for safe driving during our coldest season.
MG is committed to keeping its drivers on the road for as long as possible. In support of this, the brand has launched its latest model – the MG ZS, with a manufacturer-backed, 7 year/80,000 miles warranty as standard. While British weather is unlikely to hit such extremes, the MG ZS was put through its paces in the largest cold weather test ever conducted by the MG team – with vehicles experiencing minus 35 degrees Celsius in Sweden. The MG ZS was also tasked with completing real-life scenarios such as the paper-shop test – driving 1.5 miles in less than five minutes and delivering an enjoyable drive in the process.
Thanks to its huge 448 litre boot capacity, 60 litres larger than the typical car in its class, the MG ZS can easily fit in those winter essentials, just in case of an emergency. We recommend:
•  A mobile phone and portable charger
•  A hazard warning triangle
•  Hi-visibility vest
•  Shovel
•  Tow rope
•  Torch
•  Warm clothes and blanket
•  Wellington boots
•  First aid kit
•  Jump leads
•  Food and drink
If a Supermini is more your thing, the MG3 warranty has been increased from 3 years, to a fantastic 5 years / 60,000 miles on all new MG3s registered from 2nd January.
A Protection Pack is ideal for safeguarding against wear and tear on the interior of the car. The MG-branded pack contains heavy duty:
•  Rubber floor mats (to protect against muddy shoes)
•  Rigid boot liner (with lip on edge, to protect boot floor)
•  Anti-slip mat set (for the dash stowage areas).
All the items can be easily removed for cleaning, helping to keep the interior spick and span. You can now buy these for just £79 – almost £40 off the total cost if bought separately.
Basic checks
It's vital to check tyre pressures and treads (the legal minimum is 1.6mm across three-quarters of the tyre, all the way round) to ensure there is sufficient grip for poor road conditions. We recommend at least a 3mm tread in the winter.
It takes just minutes to make sure engine oil levels and brake fluids are topped up. It's also a good idea to stock up on anti-freeze and de-icer.
Replace worn windscreen wipers – mud and salt can smear across the windows reducing visibility, so keep a spare bottle of screen wash in the boot. Don't forget to clean the inside of the windows, too.
Are you visible on the road in the dark? Make sure your lights are in good working order – and clean. Even if your car is dirty, at least wipe the lights clean (and number plate) and always make sure your lights are clear of snow.