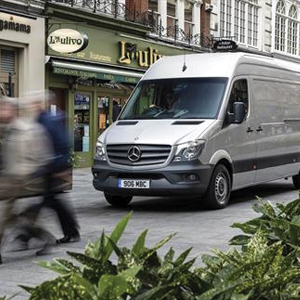 Mercedes-Benz Vans UK Ltd has been crowned Most Reliable Manufacturer, while the Sprinter has been honoured with the title of Most Reliable Van at the coveted FN50 Awards, as announced at the annual FN50 event hosted at the Park Plaza in Westminster Bridge last night.
Sprinter has retained the Most Reliable Van award for the third consecutive year, and fourth year in total since 2011 (2011, 2015, 2016 and 2017), while Vito climbed one place to sit in sixth position within the reliability ranking in 2017.
To compile the awards, FN50 companies are asked to rank their vans in order of the best performing in terms of breakdowns and warranty claims and allocate points, which are then collated to create league tables. The total number of vehicles considered was 240,000.
Stephen Briers, Editor-in-Chief, Fleet News, explained: "Mercedes-Benz Vans dominated the 2017 FN50 reliability study, taking top spot in both the brand and model categories. The company moved up two places to become the UK's most reliable brand, while the Sprinter was the most reliable model for the third consecutive year. The 2017 reliability study was based on actual breakdown and warranty claims figures from almost 250,000 vans, making it the biggest report of its type in the UK"
Steve Bridge, Managing Director, Mercedes-Benz Vans UK Ltd, added: "To be cited as both the most reliable van and manufacturer demonstrates that we are committed to our promise of keeping the nations' businesses moving. We're very proud to have received these FN50 awards as they come from the direct feedback of owners and operators, which is always so valuable to receive."