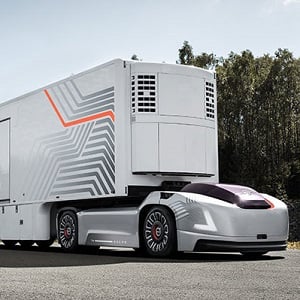 Volvo Trucks is developing a new self-driving truck concept that could bridge the divide between the distant autonomous future and the pressing shortage of drivers that exists today.
This week the Swedish truck maker introduced Vera, an autonomous truck that would operate in restricted areas such as ports or warehouse districts to carry big loads along fixed routes. Vera is a truck tractor without a cab. It is electric and is self-driving.
Volvo believes that by targeting such markets as logistics hubs with specific use cases, it can speed the development and regulatory approval necessary to get such vehicles on the road to ease the chronic driver shortage many companies face.
With the current e-commerce boom driving a big surge in warehouses, shipping and distribution centers, the lack of drivers is likely to become even more acute.  Volvo sees Vera as a tool to address the chronic driver shortage in an environmentally friendly manner.
"The full potential of the transport industry is yet to be seen," said Claes Nilsson, president of Volvo Trucks. "Everything suggests that the global need for transportation will continue to significantly increase in the coming decade. If we are to meet this demand in a sustainable and efficient way, we must find new solutions."
Amid the growing buzz surrounding self-driving vehicles, observers are betting that the trucking industry will lead the way. The economic case is much more obvious: Both fully autonomous and semi-autonomous vehicles hold the potential of big cost savings by making driving more fuel efficient, addressing the lack of drivers, increasing safety and reducing maintenance costs.
Indeed, autonomous and connected vehicles are expected to be a big part of the IAA Commercial Vehicles show, set to start Sept. 20 in Hanover, Germany.
Earlier this week, Mercedes-Benz Vans revealed a hybrid strategy based on a self-driving platform that targets both passengers and cargo. Called "Vision URBANETIC," the design centers around a self-driving electric chassis with a modular capability.
Volvo Trucks is taking a different tack with Vera. The design of the tractor looks almost like a sporty little car. The unit would be part of a local network, connected via a cloud service to a transport control center that would allow operators to monitor location precisely and manage the overall system of self-driving vehicles.
The company also is designing the system to limit the amount of new infrastructure needed to launch it. Vera could be attached to existing trailers, for instance.
Volvo officials did not offer a specific timetable for Vera's development. But it clearly believes it's urgent to accelerate the availability of such options.
"In order to secure a smoothly functioning goods flow system we also need to exploit existing infrastructure better than currently," Nilsson said. "The transport system we are developing can be an important complement to today's solutions and can help meet many of the challenges faced by society, transport companies and transport buyers."