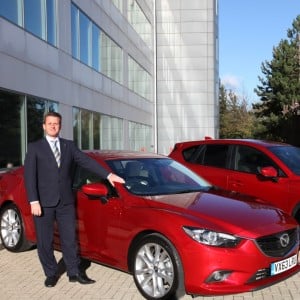 LAUNCHES: Mazda to release five new models
Mazda claim they are set to enjoy their best spell in years as they look to launch five new-generation models globally by 2016.
Jeremy Thomson, Managing Director of Mazda UK, claims the unprecedented product offensive – the biggest since the 2002-04 launch of the Mazda6, Mazda3 and Mazda RX-8 – will 'reboot' the marque.
This year has already been fruitful for Mazda, with sales running 10% ahead of forecast and 16% ahead of 2012.
Mr Thomson said: "We're predicting good times ahead while the rest of the industry is predicted to be relatively flat.
"Over the next 18months to two years we will continue our very strong product-led growth which sends out an exciting message to our dealers."
Mazda's restructuring of their dealer network has boosted sales per outlet and increased profitability, with average new car sales expected to quickly return to pre-crisis level.
Peter Allibon, Sales Director at Mazda UK, said: "A combination of growth, dealer profitability and the increased kerb appeal of the SKYACTIV models are encouraging dealers to upgrade to the premium, fresh and 21st century feel of the new corporate identity – a look that was piloted in the UK earlier this year and will make Mazda stand out in multi-franchise outlets.
"Meanwhile, the growth momentum continues with Mazda's position as a franchise of choice being reinforced further by the fact that there are more companies who want to become a Mazda dealer then there are open points."