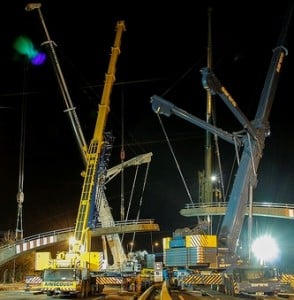 SOLUTION: Masternaut expand selection
Masternaut are now offering remote monitoring for commercial cranes and heavy lifting equipment operators.
Fully integrated with Masternaut's core fleet product, the service enables fleet and construction plant managers to access real-time utilisation and productivity data to improve asset management performance.
The solution combines asset management functionality for crane and construction equipment operators and fleet management intelligence for vehicles.
Assets are installed with Masternaut's MuxyGPS hardware, featuring contactless CANbus connectivity.
Steve Towe, European Managing Director of Masternaut, said: "Our commercial crane and heavy lifting equipment offering is far more technical than standard fleet installations.
"However, combining our experience in fleet management with cutting-edge technology means that we're able to offer telematics deployment on manufacturers including the Leibherr and Terex ranges, as well as equipment with Mercedes and Iveco ECUs.
"Having finalised the proof of concept with these OEMs we are now able to extend the range of equipment covered, rapidly bringing to market this new service for crane rental companies, owner-operators and construction businesses."
The data – streamed both in real time and aggregated into customer reports – consists of asset details including temperature, water and oil levels, pressure values and weight carried.
Through live alerts, equipment operators have the ability to monitor the condition of the crane remotely, facilitating predictive maintenance scheduling and the proactive deployment of engineers.
In addition to live insight on static assets, the technology is able to transmit driver performance intelligence for mobile and crawler cranes.
Image courtesy of Highways Agency, with thanks.