Labcraft, the industry-leading designers and manufacturers of LED lighting for commercial vehicles is presenting two new lighting solutions at this year's CV show which, says the company, will raise the bar for safety and illumination in the vehicle work place.
Banksman R23, the world's first Regulation 23-compliant manoeuvring lamp is designed to increase employee safety and safety of the public while reducing vehicle accidents. It delivers additional bright light when reverse gear is engaged. Also on show, Vanlite is the first direct OEM replacement light for vans. Up to 7 times brighter than OEM lights and only using half the power.
Labcraft Reg 23 Banksman manoeuvring lights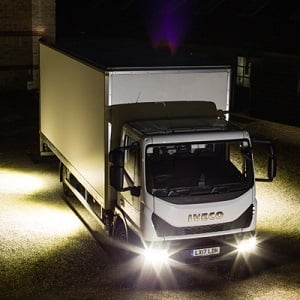 Labcraft's innovative Banksman lighting solution is already proving to be an effective contributor to safety and cost reduction in the commercial vehicle industry. With over 5,000 installations, ranging from large fleets to single vehicles, operators who have fitted the system are reporting improved levels of safety and significant savings associated with accident damage and vehicle downtime.
Mounted at various points on the underside of the chassis, the Labcraft Banksman system delivers additional bright, white light around the vehicle to areas which conventional reversing lights cannot reach.  It is suitable for any vehicle required to work in areas of darkness or poor light and simple to install – either to pre-registered vehicles, as 'standard', or for retrofitting to an existing fleet.
As a Regulation 23-compliant manoeuvring light, the BM3 can be installed to illuminate when in reverse only, or when both reversing and in forward motion up to 10km/hr.
Furthermore, to accommodate varying chassis heights, the Banksman BM3 offers variants to ensure that the light spread is optimised for each individual vehicle while still operating within the strict Regulation 48 lighting regulations.
Made from tough polycarbonate with strengthened lenses to protect its market-leading Cree LEDs, the BM3 Banksman is IP67-rated and is supported with a 5-year warranty.  Its advanced internal electronics and heat management systems enable the BM3 to provide the powerful, bright white light that is consistent and compliant with Regulations. All Labcraft lights, including the BM3, are made at the company's ISO9001 manufacturing facility in Saffron Walden, Essex.
Operators of temperature-controlled vehicles, rigids, curtainsiders, box vans and construction vehicles have installed Labcraft's Banksman solutions to reduce personal injury and damage while reducing downtime and keeping staff and the public safe.  The benefits and success of the Banksman has led to collaboration with industry bodies and leading vehicle manufacturers focused on improving safety and reducing costs.
New Vanlite range offers improved safety & reduced costs
Also new at the CV Show is Labcraft's Vanlite LED lighting range – the first direct OEM replacement light for vans.
The new Vanlite range is a high performance, direct OEM replacement workspace light for vans. It is compatible with all leading van types and up to 7 times brighter than the OEM-supplied equivalent.
For easy installation, the LED Vanlite plugs straight into the existing OEM aperture using an easy-fit plug/play connector which eliminates additional component costs such as cabling and switches.  Labour costs are therefore reduced as it takes less than 30 seconds to fit.  This makes the Vanlite perfect for new conversions and for retro-fitting into existing vans.
The Vanlite is manufactured using Cree high efficiency LEDs to maximise light output and is built by Labcraft in the UK with the latest high-tech heat management technology and hard-wearing components.  In addition to the benefits of improved safety, reduced installation costs and extended vehicle battery life, the Vanlite range is also supported by Labcraft's market-leading 10-year warranty.
In summary, the new Vanlite range brings improved safety, reduced installation costs and improved vehicle battery life to van users in every sector.