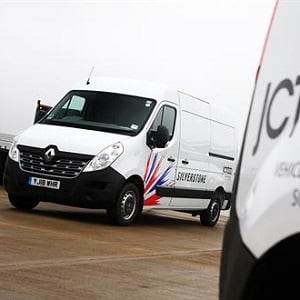 A selection of Renault Pro+ Commercial Vehicles have been delivered to the world famous Silverstone motor racing circuit by its chosen supplier, JCT600 Vehicle Leasing Solutions (VLS), the specialist leasing and fleet management division of Bradford-based JCT600.
With a comprehensive range of conversions, Renault Pro+ Commercial Vehicles was able to offer the right selection of vehicles for the varied roles required by Silverstone. The Renault Master double cab fitted with dropside body conversion offers the UK's leading motor racing circuit the flexibility to carry odd and over-size loads around the circuit, as well as seven people. The Master panel vans also offer a large loadspace and are used for track maintenance. Finally, supporting the hospitality side of the circuit's events, are the two Renault Kangoo Maxi vans that have been converted into fridge vans. These allow food to be centrally prepared and then transported to the many different hospitality areas of the circuit without the risk of the food spoiling.
Mark Dickens, Head of Fleet Sales Operations and Remarketing, Groupe Renault UK said, "With Renault having celebrated its 40th year in Formula One last year we are delighted that a selection of Renault Pro+ Commercial Vehicles has been chosen to support Silverstone Circuit with its business needs."
Paul Walters, managing director for JCT600 VLS, added, "With JCT600's racing heritage, we are, of course, proud to partner with Silverstone Circuits and for their on-site vehicles to bear our livery. I understand we were chosen because of our ability to provide a truly bespoke package, ensuring that every vehicle is suitable for its particular purpose."
"We were also able to work within Silverstone's time frame, with the vehicles ordered, liveried and delivered within just three months."
JCT600 Vehicle Leasing Solutions is a stand-alone business within JCT600. It operates a fleet of 7,000 vehicles, predominantly serving SMEs, typically with fleets of 5-200 vehicles, supplying cars, vans and even mini buses throughout the UK from the South East to Scotland. Based at Apperley Bridge, it employs 43 staff.
With its head office in Bradford, the JCT600 group is a family business with 50 dealerships throughout Yorkshire, the North East, the Humber, Derbyshire, Lincolnshire and Nottinghamshir