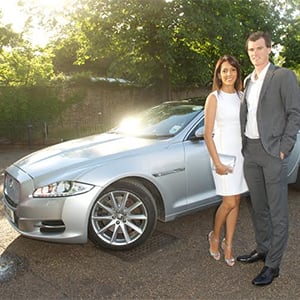 British luxury brand, Jaguar, supported global fashion icon Ralph Lauren's glamorous event in London, to celebrate The Official Wimbledon Outfitter's tenth anniversary as an AELTC partner on Monday 22 June.
Jaguar, celebrating its 80th anniversary and first year as The Official Car of The Championships, Wimbledon, provided a fleet of luxury chauffeur vehicles as the Official Car Supplier for The Ralph Lauren and Vogue Wimbledon Summer Cocktail party.
Stars of tennis, film, music and fashion were chauffeured to the event by Jaguar. The fleet of luxury chauffeur vehicles included the new Jaguar XE, which is now on sale at Jaguar retailers. The new British sports saloon car is now being delivered to its first customers across the UK.
Laura Schwab, UK Marketing Director at Jaguar Land Rover, said: "Jaguar is excited to be able to celebrate these important landmarks before Wimbledon.
"We also have exciting plans this week to support Tim Henman at his Pro-Am in London on 24 June, and the Women's Tennis Association event for Wimbledon the following evening. These events will provide Jaguar with incredible exposure in London over the next three weeks. With the British tennis season coinciding with the launch of the Jaguar XE, it's a fantastic platform to showcase our new product."
Jaguar Land Rover UK will supply 170 luxury high performance vehicles to support tournament operations at Wimbledon. The new Jaguar XE will be part of an award-winning fleet, including the XF, XF Sportbrake and XJ models at this year's Championships.
The Championships, Wimbledon, takes place at the All England Lawn Tennis & Croquet Club from 29 June-12 July.