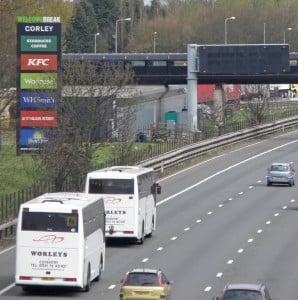 RIP-OFF: Corley M6 the worst fuel offender
Motorway service stations are charging up to FOUR TIMES the high street price for basic food and drinks, new figures show.
Research by the Institute of Advanced Motorists (IAM) shows the service area user can expect to pay 25% more than the everyday shopper for standard items.
Essentials such as a 500ml bottle of water cost £2.09 at the services, compared to 95p on a London high street – a 120% markup.
Meanwhile, the cheapest cheese sandwich found cost £3.99, a staggering 300% increase on the £1 high street price.
Other highlights include a 47% markup on a medium white coffee, a 20% increase on a standard Mars bar and an 11% premium on a packet of Walkers crisps.
More than half (51%) of motorists are dissatisfied with the value for money at motorway service areas, but are left with little choice when making long trips.
Reflecting this, 65% of respondents to the IAM survey said they would likely stop at the services just to use the toilet facilities.
Simon Best, Chief Executive of the IAM, said: "Motorway service areas are supposed to be for motorists eat, drink and freshen up.
"It's very important to have a break every two hours and these costs will put people off stopping.
"Tired motorists pose a danger to themselves and other road users."
Meanwhile, 54% of respondents consider the cost of fuel at motorway service areas unreasonable.
With petrol prices averaging about 10p per litre more than at off-motorway forecourts, the IAM are calling for a complete review of motorway prices.
They are also insisting filling stations should be forced to advertise their and their competitors' fuel prices, as is the case in France.
Research revealed that from one motorway service area to the next, the price of petrol can vary by up to 10p per litre.
Corley M6 is the worst offender, with petrol 13p more than at its nearest off-road competitor.
Mr Best added: "17,000 people every year break down on the motorway simply because they have run out of fuel, which can cause lane closures and delays for everyone.
"High petrol prices will put people off filling up.
"Forcing stations to advertise their competitors' prices would drive costs down."
Image courtesy of amandabhslater, with thanks.