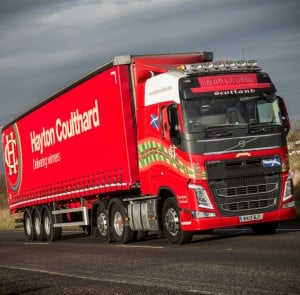 BIRTHDAY: 25 new Volvos for Hayton Coulthard
Hayton Coulthard have added 25 new Volvo FH 6×2 tractor units to their fleet, as they prepare to celebrate their 100th anniversary in business.
All trucks come with Globetrotter cabs, Volvo D13 460hp engines and I-Shift automated gearboxes, with around half fitted with power take-off equipment for use with the fleet's walking floor trailers.
The rest pull a variety of general haulage trailer types, including fridge vans, curtainsiders and platforms.
Duncan Coulthard, Managing Director of Hayton Coulthard, said: "We've opted for the rear lift axles as we carry out a lot of farm deliveries, where good traction and manoeuvrability is vital.
"Volvo's Globetrotter cab is also extremely spacious and we specify a number of extras for our drivers like refrigerators and microwave ovens, whilst all our new FHs also have swivelling passenger seats for comfortable off duty spells."
Hayton Coulthard operate a fleet of around 70 vehicles which carry a tartan trimmed, traditional Scottish livery applied by AstSigns Limited.
The company stick to a one driver, one truck policy and each of the new Volvo FHs is expected to accrue around 150,000 kilometres per year.